Helping children and families in their greatest time of need
Concordia University Ann Arbor's Child Life and Interprofessional Practice Master's Program is a distinctive choice in that it provides, evidence-based curriculum, integration and application of curriculum in interdisciplinary experiential (simulation) learning opportunities, and a Christian mission- including an emphasis on mission trip and service opportunities.
FAITH-BASED
We are committed to engaging your mind and spirit for service to Christ in the church and the world.
Questions? We're here to help
Our team is available to help you as you consider the next step in your education.
Get answers to your questions
Our team is standing by to assist you with additional program details, financial aid options, and admissions questions.
Concordia University will not share your personal information. By submitting this form you agree to be contacted about Concordia's Education Offerings.
Concordia University Ann Arbor is committed to preparing child life specialists who employ evidence-based methods in integrative health care settings and settings where children and families impacted by illness, injury, and health care are served. The intent of the Child Life Master's Program is to prepare men and women for a life of service in the church, and in the world, within the specialized area of Child Life. This program is designed to deepen understanding of child development and of the processes of supporting children and families during medical interventions, crises or hospitalization, in developmentally appropriate and in trauma informed ways.
Questions?
Prof. Kara Brennan, MS, CCLS
Child Life Program Coordinator
kara.brennan@cuaa.edu
734-995-7426
Children and families can encounter a variety of health care related stressors and potentially traumatic events when faced with acute and chronic illness, injury, trauma and bereavement. These experiences can lead to complex feelings that can greatly influence the child's development and the child's, and family's, abilities to cope. This program will help you to address them from a Christian perspective, within an interdisciplinary health care team, to provide exceptional child life services with a servant's heart. Students will examine how to provide evidence-based, developmentally and psychologically appropriate, interventions for children and families, as well as analyze the steps that child life professionals can take to advocate on behalf of the child and family impacted by illness, injury, and health care.
Recommended for you (based on programs you've viewed)
A baccalaureate degree in child development, child and family studies, child studies, child psychology, developmental psychology, education, recreational therapy, or other relevant degree from a regionally accredited college/university.
Minimum undergraduate GPA of 3.0 on a 0-4 scale for full acceptance
A minimum of 120 documented volunteer hours working with children and families impacted by health care. This requirement is currently adjusted due to Covid.
Successful completion of a background check
Each applicant will interview with Child Life Program Coordinator, Kara Brennan.
Interested applicants are required to have previously taken two (2) child development courses and one (1) family systems course
Graduate Application Steps
Application (Please Submit the Following):

Non-refundable application fee
One page essay describing your reason for obtaining a graduate degree
Résumé of your education and employment experience
Two signed letters of recommendation using the Recommendation Form (recommendation letters on letterhead may also be submitted)
All official transcripts leading to your bachelor's degree

Please note:

Graduate entrance exams such as the GRE are not required.
If you have completed graduate level classes in the last seven years and wish to have them evaluated for possible transfer, please contact your admissions counselor for more information on transferring graduate credits.
International students should contact the Office of International Student Services at international.admissions@cuaa.edu for additional application requirements.

Evaluation
When an applicant's file is complete, the file is forwarded to the Admission Committee for review.
Admission
If the student is admitted, an acceptance letter will be mailed to the student and the student's CUAA student ID number. Password information to access my.cuaa.edu will be sent separately from the Information Technology office. Your advisor will be able to give you information regarding completion of the required student orientation before you begin your first class.
Non-Degree Seeking Graduate Students
Please complete the Non-Degree Application
Non-degree applicants only need to submit an application to begin admission review; however academic transcripts may be requested to complete our review.
Contact Us
For additional information, please contact the Graduate Admission Office at graduate.admissions@cuaa.edu or 734-995-7527.
Child Life Program Coordinator, Adjunct Professor
Office: Krieger 115
Phone: (734) 995-7426

Bio
Kara is the Child Life Program Coordinator. She supports the graduate and undergraduate Child Life students while also serving as an adjunct professor at CUAA. Kara worked as a Certified Child Life Specialist at C.S. Mott Children's Hospital for 10 years. In the last 2.5 years at Mott she provided administrative support to the department. Kara is also a mom to three beautiful children.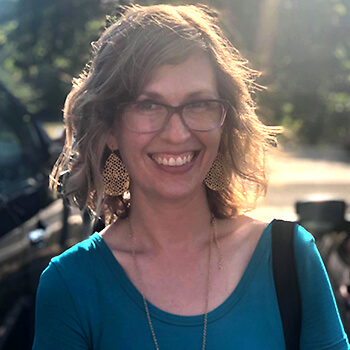 ---
Education
MS - Organizational Leadership and Healthcare Administration, Concordia University Wisconsin (2019)
BA - Family Life Education and Child Life, Concordia University Ann Arbor (2009)
---
Research Interests
Child Development
Mental Health
ACES in children
---
Teaching Interests
Trauma informed care
Bereavement
Self-care
Questions? We're here to help