Believe in yourself and inspire others
Leadership is a transformational experience. Whether you consider yourself a "natural" leader or you have a strong desire to cultivate leadership habits, this program will equip you with both the mindset and the practical tools to lead in any situation. Think of this program as much in terms of personal growth as you would in professional growth.
Today's challenging and changing global economy demands ethical and effective leaders. The Master of Science in Organizational Leadership & Administration (OLA) at Concordia University empowers you to develop the qualities and traits of a leader best reflected in your personal and professional experiences. The OLA program exposes you to leadership theory and practice, vital ethical principles, and organization-building exercises. Graduates reflect Christian Leadership values that empower today's minds to transform today's world. The OLA Program requires 32 semester hours of credit comprising of 11 courses.
Inspiring change and cooperation in an organization requires an intuitive team leader, equipped with the abilities, knowledge and skills needed to create and maximize the benefits of a motivated work environment. The result: strong group identity built on commitment and trust.
A graduate-level degree in Organizational Leadership and Administration (OLA) prepares you for leadership roles in many areas of business. The Concordia University Master of Science in Organizational Leadership and Administration program blends Christian leadership and ethics with organizational theory and practice. It prepares a wide variety of working professionals to guide organizational efforts effectively with methods based on proven scientific study.
Career Paths
CEO
CFO
Human Resource Manager
Marketing Manager
Risk Management Consultant
Labor Relations Manager
Benefits and Wage Manager
Graduate Application Steps
Application (Please Submit the Following):

Non-refundable application fee
One page essay describing your reason for obtaining a graduate degree
Résumé of your education and employment experience
Two signed letters of recommendation using the Recommendation Form (recommendation letters on letterhead may also be submitted)
All official transcripts leading to your bachelor's degree

Please note:

Graduate entrance exams such as the GRE are not required.
If you have completed graduate level classes in the last seven years and wish to have them evaluated for possible transfer, please contact your admissions counselor for more information on transferring graduate credits.
International students should contact the Office of International Student Services at international.admissions@cuaa.edu for additional application requirements.

Evaluation
When an applicant's file is complete, the file is forwarded to the Admission Committee for review.
Admission
If the student is admitted, an acceptance letter will be mailed to the student and the student's Falcon One Student ID number. Password information to access my.cuaa.edu will be sent separately from the Information Technology office. Your advisor will be able to give you information regarding completion of the required student orientation before you begin your first class.
Non-Degree Seeking Graduate Students
Please complete the Non-Degree Application
Non-degree applicants only need to submit an application to begin admission review; however academic transcripts may be requested to complete our review.
Contact Us
For additional information, please contact the Graduate Admission Office at graduate.admissions@cuaa.edu or 734-995-7527.
Kenneth E. Harris Ph.D - Leadership Studies; MBA - Finance and Risk Management; BA - Management of Criminal Justice; BS inMass Communication - Radio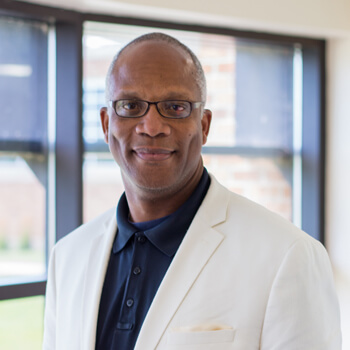 ---
Education
Ph D - Leadership Studies, Marian University (2009)
---
Research Interests
Minority Law Enforcement Officers
Self-Leadership
---
Teaching Interests
Criminal Justice
Leadership
Connect with a Counselor
Please select the area that best describes you from the options below.