A close connection to God's Word
Do you want to study the Bible in depth? Do you have a desire to pursue deep theological study and reflection? Are you interested in attending seminary after your undergraduate studies? Wonderful! We've got you covered. Studying theological languages at Concordia will prepare you to do all of these things and more.
The biblical languages Hebrew and Greek are the original languages of the Old and New Testaments. Latin and German are languages that have been used by theologians through the centuries. Knowing these languages is a key element of serious theological study, and this program gives you the opportunity to study each of them. This knowledge is also essential for seminary studies in the Lutheran Church--Missouri Synod as these languages are foundational for future studying, preaching, and teaching.
You will learn Hebrew, Greek, and either Latin or German in order to read the Bible and major theological works in their original languages. Reading these texts creates a closer connection to God's Word, allows you to interact with primary texts, and offers a deeper understanding of the early Christian world as well as subsequent church history. Our curriculum and faculty will help you attain a high level of competency for reading and translating these original languages. Plus, this program is excellent preparation for seminary requirements and other graduate work in theology. 
Yes, you are going to be challenged. You'll be learning new alphabets that you've likely never encountered before. However, your faculty, classmates, and tutors are eager to give you the support and resources needed to succeed. You'll learn and practice self-discipline, a necessary trait for language acquisition. In terms of benefits, you'll experience the Bible and theological literature in a depth not possible with English translations. You'll be preparing to spend a lifetime digging into Scripture and theological works with more clarity than before. Plus, through the study of other languages, your mastery of English will even improve.
Career Paths
Bible translator
Pastor
Christian Author
Professor of Theology
Undergraduate Application Steps
It's time to help you become a Cardinal! Just follow these simple steps to complete your application.

For first-time freshman:
Submit your online application
Have your school send your official high school transcripts. Transcripts may be mailed or sent via a transcript processing service to:
Concordia University Ann Arbor
Admissions Office
4090 Geddes Rd
Ann Arbor, MI 48104
Send your official ACT or SAT scores.
Scores on your high school transcript will be considered official. If your school does not put scores on transcripts, please contact ACT or College Board.
For transfer students:
Submit your online application
Submit official transcripts from all colleges/universities attended
*Transfer students with less than 60 college credits completed will also submit official high school transcripts. Students who have less than 30 college credits also need to submit official ACT or SAT scores. Scores on your high school transcript will be considered official.
Minimum Requirements
A minimum GPA of a 2.5/4.0 (C average) or higher
ACT composite of 18 or above
SAT equivalent of 940 or higher for combined math and evidence-based reading and writing (for tests taken after March 2016).
*If your GPA or ACT score falls below the minimum for acceptance, your admissions counselor may ask you to retake the test or supply additional documents, such as an essay or letters of recommendation, to complete the application.
Required Academic Coursework in High School
A minimum of 16 units of high school (secondary school) work is required, of which at least 11 should be in basic liberal arts areas. Units should be distributed as follows:
English: At least three units, but four are strongly recommended.
Mathematics: Two units of college-prep math, preferably one each in Algebra and Geometry.
Natural Science: Two units, preferably one each in Biology, Physics or Chemistry.
Social Studies: Two units, preferably one each in world history and American history.
Liberal Arts: Two units of the same foreign language or additional units in one or more of the other listed subjects or in fine arts.
Other Electives: Five units from any area of academic study, but ideally from the areas listed above.
German or Latin is recommended for pre-seminary students.
Associate Professor
Phone: (734) 995-7361
Email: phil.penhallegon@cuaa.edu

Bio
Phil Penhallegon teaches Biblical Languages and Bible Content, especially Hebrew and Old Testament. He is currently researching and writing about the Book of Esther.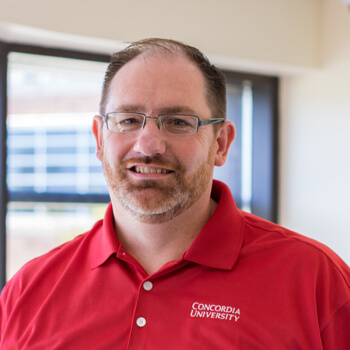 ---
Education
Ph D - Biblical Studies, Concordia Seminary St. Louis (2012)
BA - Communication, Concordia College, Ann Arbor (1991)
Concordia Seminary, St. Louis (1998)
---
Research Interests
Book of Esther
Book of Nehemiah
---
Teaching Interests
Biblical Hebrew
Biblical Greek
Charles R. Schulz S.T.M., M.A. (History of Christianity), M.A. (Classics), M.Div.
Assistant Professor
Phone: (734) 995-7384
Email: charles.schulz@cuaa.edu

Bio
Professor Schulz, Pre-seminary Director, loves helping students realize God's calling. At Concordia since 2001, he also served as pastor of St. Thomas (2005-2014). His hobbies include running, travel, and German.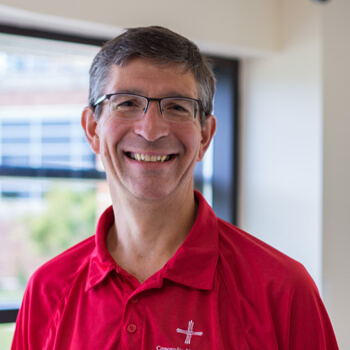 ---
Education
M Div - Concordia Seminary (1996)
MA - Christianity and Judaism in Antiquity, University of Virginia (2004)
MA - Classical Languages, Washington Univeristy (1998)
BA - General Science, Concordia University (1990)
Exegesis, Concordia Seminary (1998)
---
Research Interests
Patristics (Church Fathers)
Theology of the Lord's Supper
---
Teaching Interests
Connect with a Counselor
Please select the area that best describes you from the options below.