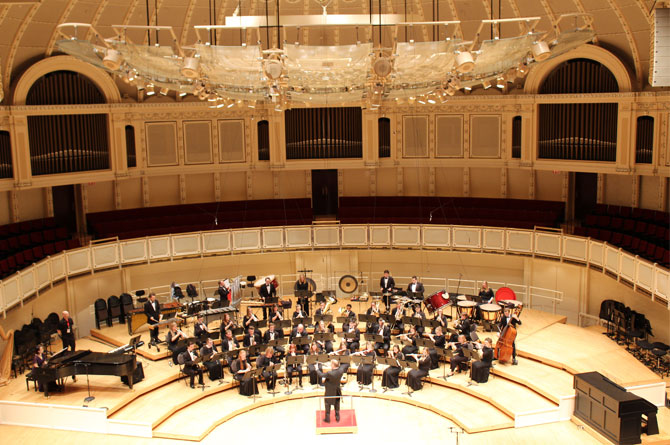 Who We Are
The Concordia University Wind Ensemble is an auditioned group of wind and percussion players open to all CUAA students with previous experience playing an instrument. Under the direction of Dr. William Perrine, the Wind Ensemble has developed a national reputation for excellence, including critically praised performances at some of our nation's most esteemed concert halls. The Wind Ensemble has also been recognized as one of the top small collegiate programs in the nation through the College Band Directors National Association's Small Program Showcase in 2019. Most recently, the ensemble received 3rd Place in the 2021 American Prize competition.
What We Perform
Our repertoire is chosen from among the finest traditional and contemporary wind band music. The Wind Ensemble is active in commissioning new music. We regularly engage in collaborations with nationally and internationally recognized composers on a regular basis. The ensemble presents multiple premieres of new music each academic year, and regularly hosts guests composers in residence on campus.
When We Meet
The Wind Ensemble (MUS 181) meets Mondays, Wednesdays, and some Fridays from 4:10 to 5:35 p.m. and can be taken for either 1 Credit or Audit.
Where We've Toured
The Wind Ensemble tours annually with the music department, sharing God's gift of music with a wide variety of audiences. Recent tours have included stops to Missouri, Florida, Louisiana, and Texas. In January 2023, the Wind Ensemble will travel to Arizona, Nevada, and California with the CUAA music department. The Wind Ensemble has performed showcase concerts at both Carnegie Hall in New York City and Symphony Center in Chicago, Illinois as part of international music festivals.
Recent and Upcoming Premiere Performances
Hidden Currents by Katherine Bergman (May 2022)
The Persistence of Memory by Joni Greene (December 2022)
Image on Truth by Nicole Piunno (April 2021)
Forever Radiant by Aaron Perrine (November 2019)
Samay Raga by Aakash Mittal (May 2019)
Ash by Jennifer Jolley (May 2019)
The field well by nick omicolli (May 2019)
Silent Shadows to the Last by James Syler (December 2018)
Whispering of Fields Unknown by Andrew Boysen, Jr. (May 2018)
At Her Ladyship's Request by Carter Pann (May 2018)
Green Blade Rising by Geoffrey Stanton (April 2018)
Luther: In Canon by James Stephenson (November 2017)
Shenandoah by Donald Grantham (May 2017)
Wu Xing by James Syler (Dececmber 2016)
Starry Night by Michael Kallstrom (March 2016)
Winter Ricercar by Kevin Walczyk (December 2015)
All Points Bulletin: In Hot Pursuit by Mark E. Wolfram (October 2015)
Connacht Rhapsody by David Holsinger (November 2014)
Tribute: Those Who Serve by James Grant (May 2014)
Our Leadership
William Perrine [William.Perrine@cuaa.edu] - Director
Why You Should Join
Performing in the Wind Ensemble gives students a first-rate musical experience, allowing them to further develop their talents, enjoy a wonderful community with fellow students, and share their gifts with audiences at home and across the nation.
"My experiences this year have helped me increase my appreciation for music, and increase my love for playing it. The incredible teachers, as well as my fellow classmates, have helped me to find a depth of musicianship within myself that I didn't know existed."
Elizabeth, English Major, Southgate, MI
"Nothing is more exhilarating than playing that first note in front of an audience with the lights dimmed and knowing you did everything in your power to make this concert the best. It's even better when you're playing that note on stage at Carnegie Hall or in front of an enthusiastic congregation of people you've never met and can watch their faces as the music touches them."
Rachel, English Major, Fredericksburg, IA
Critical Praise for the Wind Ensemble
"The musicians play heartily with musicianship, intelligence, and commitment….those in attendance were just as deeply moved by your performance of the piece as I was."
Dr. James Grant, Guest Composer in Residence
"Your performance was nothing short of stunning and inspirational, as evidenced by the standing ovation you received… the festival participants were not prepared for the beauty, power and virtuosity of your Wind Ensemble…You have developed one of the finest wind bands in the nation."
Dr. William Johnson, President, World Association of Symphonic Bands and Ensembles