Classical education still applies today
Some might argue the classical approach to education is outdated, but we beg to differ. In today's world—where endless knowledge is accessible at just the click of a button—it's more important than ever to teach students how to learn and how to think. And that's exactly what classical education does. By honing your classical skills, you'll be well equipped to teach others in a manner that's been around for centuries.
The Classical Education program comprises an interdisciplinary course of study in Classical studies and Classical teaching methods, grounded in the Liberal Arts tradition with a strong foundation in the Lutheran heritage. The complete Classical Education program at Concordia is comprised of our Classical Studies Major (which provides you with a classical foundation) and the Classical Pedagogy Minor (where you'll learn how to teach according to classical principles).
Students can anticipate engaging the Liberal Arts at all levels of the program. You will gain a solid foundation in Classical culture and the Christian intellectual tradition. You will explore the history, theory and practice of a Classical approach to curriculum and pedagogy. You will develop a thorough knowledge of Biblical content and demonstrate an understanding of the Christian worldview from a Lutheran perspective. Upon graduation, you will have the broad content knowledge and practical experience that Classical schools are looking for in teacher candidates.
Concentrations / Specializations
Licensure / Certifications
Graduates of this program are eligible for roster status within the Lutheran Church-Missouri Synod.
Career Paths
Teaching in classical schools
Curriculum Development
Educational Administration
Professor of Theology
Internships

Concordia LRC tutors Confirmation classes in area congregations part-time positions in local Classical schools Private tutors Student teaching in local area Classical schools and academies
Undergraduate Application Steps
It's time to help you become a Cardinal! Just follow these simple steps to complete your application.

For first-time freshman:
Submit your online application
Have your school send your official high school transcripts. Transcripts may be mailed or sent via a transcript processing service to:
Concordia University Ann Arbor
Admissions Office
4090 Geddes Rd
Ann Arbor, MI 48104
Send your official ACT or SAT scores.
Scores on your high school transcript will be considered official. If your school does not put scores on transcripts, please contact ACT or College Board.
For transfer students:
Submit your online application
Submit official transcripts from all colleges/universities attended
*Transfer students with less than 60 college credits completed will also submit official high school transcripts. Students who have less than 30 college credits also need to submit official ACT or SAT scores. Scores on your high school transcript will be considered official.
Minimum Requirements
A minimum GPA of a 2.5/4.0 (C average) or higher
ACT composite of 18 or above
SAT equivalent of 940 or higher for combined math and evidence-based reading and writing (for tests taken after March 2016).
*If your GPA or ACT score falls below the minimum for acceptance, your admissions counselor may ask you to retake the test or supply additional documents, such as an essay or letters of recommendation, to complete the application.
Required Academic Coursework in High School
A minimum of 16 units of high school (secondary school) work is required, of which at least 11 should be in basic liberal arts areas. Units should be distributed as follows:
English: At least three units, but four are strongly recommended.
Mathematics: Two units of college-prep math, preferably one each in Algebra and Geometry.
Natural Science: Two units, preferably one each in Biology, Physics or Chemistry.
Social Studies: Two units, preferably one each in world history and American history.
Liberal Arts: Two units of the same foreign language or additional units in one or more of the other listed subjects or in fine arts.
Other Electives: Five units from any area of academic study, but ideally from the areas listed above.
German or Latin is recommended for pre-seminary students.
Associate Professor
Phone: (734) 995-7361
Email: phil.penhallegon@cuaa.edu

Bio
Phil Penhallegon teaches Biblical Languages and Bible Content, especially Hebrew and Old Testament. He is currently researching and writing about the Book of Esther.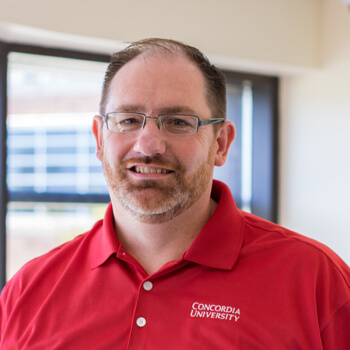 ---
Education
Ph D - Biblical Studies, Concordia Seminary St. Louis (2012)
BA - Communication, Concordia College, Ann Arbor (1991)
Concordia Seminary, St. Louis (1998)
---
Research Interests
Book of Esther
Book of Nehemiah
---
Teaching Interests
Biblical Hebrew
Biblical Greek
Charles R. Schulz S.T.M., M.A. (History of Christianity), M.A. (Classics), M.Div.
Assistant Professor
Phone: (734) 995-7384
Email: charles.schulz@cuaa.edu

Bio
Professor Schulz, Pre-seminary Director, loves helping students realize God's calling. At Concordia since 2001, he also served as pastor of St. Thomas (2005-2014). His hobbies include running, travel, and German.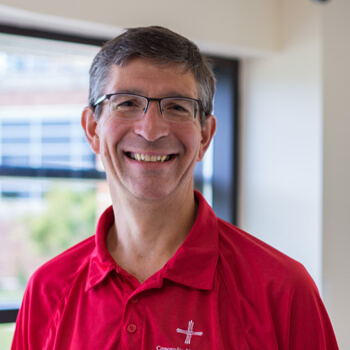 ---
Education
M Div - Concordia Seminary (1996)
MA - Christianity and Judaism in Antiquity, University of Virginia (2004)
MA - Classical Languages, Washington Univeristy (1998)
BA - General Science, Concordia University (1990)
Exegesis, Concordia Seminary (1998)
---
Research Interests
Patristics (Church Fathers)
Theology of the Lord's Supper
---
Teaching Interests
Connect with a Counselor
Please select the area that best describes you from the options below.