School of Arts and Sciences
|
Department of Theology
Bachelor of Arts in Family Life Ministry
Dedicate your career to helping families and congregations thrive with a bachelor's in Family Life Ministry.
Strengthen families and congregations
In the last 20 years, the very concept of a family became a whole lot more complicated. There are more challenges than ever for families who simply want to have healthy, happy relationships with one another. Never before has there been a greater need for individuals to help educate and equip families with the resources needed to thrive. Help meet the needs of families by enrolling in the Family Life Ministry program.
On-campus
All courses offered face-to-face on Ann Arbor's campus.
Search More Jobs
Family Life Ministry prepares students for ministry in congregations to equip families, marriages, and communities for life together, faith development, and teaching the Gospel. Graduates will practice Christ-like love, integrity, and excellence as they develop and implement family programming in congregations, connect people across generations, equip families to grow in faith and love together, and reach out to the community through meaningful relationships.
Successful graduation from this program grants a certification in Family Life Ministry from Concordia University for all graduates, which also makes Lutheran Church—Missouri Synod (LCMS) students eligible for the rostered position of Director of Family Life Ministries in the LCMS.
Celia Walkoicz is a recent graduate from the Family Life program and is thriving in her new role as Director of Children & Youth Ministries in Nashville, TN. Check out the video below for more info!
Family Life Ministry students will receive a practical education as they experience ministry among children, youth, and families. Students will be equipped to walk alongside families during the best and the most challenging moments of life. Thus, students can expect to get their hands dirty, so to speak, as they care for the needs of real people in congregations and in communities. Students can also expect to learn the Bible and good theology in order to communicate the Gospel of Jesus and enable families to teach the same Word of God within them. Course work will involve psychology, Old and New Testament, and a variety of other holistic classes that will strengthen your faith and prepare you for a life of spiritual fulfillment. It is also recommended to combine this degree with a minor of your choice, such as Spanish, Social Work, or Sociology to prepare for helping members of all communities. A minimum of 18 credits are required for minors. 
Recommended for you (based on programs you've viewed)
Undergraduate Application Steps
It's time to help you become a Cardinal! Just follow these simple steps to complete your application.

For first-time freshman:
Submit your online application
Have your school send your official high school transcripts. Transcripts may be mailed or sent via a transcript processing service to:
Concordia University Ann Arbor
Admissions Office
4090 Geddes Rd
Ann Arbor, MI 48104
Send your official ACT or SAT scores.
Scores on your high school transcript will be considered official. If your school does not put scores on transcripts, please contact ACT or College Board.
For transfer students:
Submit your online application
Submit official transcripts from all colleges/universities attended
*Transfer students with less than 60 college credits completed will also submit official high school transcripts. Students who have less than 30 college credits also need to submit official ACT or SAT scores. Scores on your high school transcript will be considered official.
Minimum Requirements
A minimum GPA of a 2.5/4.0 (C average) or higher
ACT composite of 18 or above
SAT equivalent of 940 or higher for combined math and evidence-based reading and writing (for tests taken after March 2016).
*If your GPA or ACT score falls below the minimum for acceptance, your admissions counselor may ask you to retake the test or supply additional documents, such as an essay or letters of recommendation, to complete the application.
Required Academic Coursework in High School
A minimum of 16 units of high school (secondary school) work is required, of which at least 11 should be in basic liberal arts areas. Units should be distributed as follows:
English: At least three units, but four are strongly recommended.
Mathematics: Two units of college-prep math, preferably one each in Algebra and Geometry.
Natural Science: Two units, preferably one each in Biology, Physics or Chemistry.
Social Studies: Two units, preferably one each in world history and American history.
Liberal Arts: Two units of the same foreign language or additional units in one or more of the other listed subjects or in fine arts.
Other Electives: Five units from any area of academic study, but ideally from the areas listed above.
German or Latin is recommended for pre-seminary students.
Theodore J. Hopkins
Ph.D., M.Div.
Director - Pre-seminary studies for CUAA, Associate Professor
Office: Krieger K-110
Phone: (734) 995-7480

Bio
I am a husband and father, Lutheran pastor and professor, who is particularly interested in Dietrich Bonhoeffer. I began teaching at Concordia University, Ann Arbor in 2015.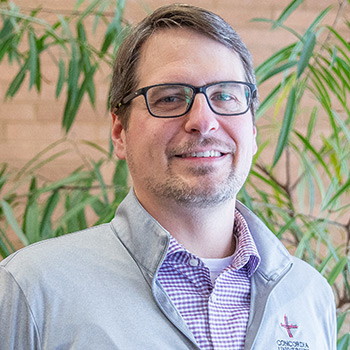 ---
Education
Ph D - Doctrinal Theology, Concordia Seminary (2016)
M Div - Theology, Concordia Seminary (2011)
BS - Physics, Valparaiso University (2007)
---
Contributions
Hopkins, T. (2021). Christ, Church, and World: Bonhoeffer and Lutheran Ecclesiology after Christendom. (pp. ~200). Lanham, MA: Lexington Books/Fortress Academic Press.
Hopkins, T. (2020). Luther and Bonhoeffer on the Sermon on the Mount: Similar Tasks, Different Tools. (1 ed.,vol. 7,pp. 34-59). Mequon, WI: Concordia Theological Journal.
Hopkins, T. (2019). Review of Mark Chavez, American Religion: Contemporary Trends (2nd edition). (1 ed.,vol. 28,pp. 44-45). Logia.
Hopkins, T. (2018). Review of DeJonge, Michael P. Bonhoeffer's Reception of Luther. (1 ed.,vol. 6,pp. 91-93). Concordia Theological Journal.
Hopkins, T. (2018). Theology Is for Confession. (1 ed.,vol. 6,pp. 7-9). Concordia Theological Journal.
---
Presentations
Hopkins, T. (2023). Experience Makes the Theologian: Recovering Lutheran Patterns of Christian Experience. Keynote/Plenary Address. 2023 Circuit Visitor's Conference. Frankenmuth, MI.
Hopkins, T. (2022). Strangers, Yet at Home: Going Beyond the Walls in Humility. Keynote/Plenary Address. Theological Conference 2022: Beyond the Walls with Jesus. Lansing, MI.
Hopkins, T. (2019). Reading Scripture Against Ourselves: Bonhoeffer's Penitential Hermeneutic. Paper. Devoted: Reforming the Devotional Life (30th annual Theological Symposium). St. Louis, MO.
Hopkins, T. (2018). The Servant Church: Mission After Christendom. Lecture. St. Luke Lutheran Church Sermon/Bible Study Two-Part Series on The Church's Mission After Christendom. Ann Arbor, MI.
Hopkins, T. (2018). The Location of Congregational Vocation: The Importance of Place in the Mission of the Church. Oral Presentation. The Lutheran Foundation Grant Workshop. Fort Wayne, IN.
---
Research Interests
Dietrich Bonhoeffer
Church and World
---
Teaching Interests
Systematic Theology
Lutheran Confessions