School of Business
|
Department of Business
Bachelor of Science in Finance
Become an essential part of any business by helping it manage its resources wisely and make sound financial decisions. A Bachelor of Science in Finance will prepare you for a wide variety of careers.
Success isn't a numbers game
In this program, you'll learn how to plan, manage, and analyze the financial performance of organizations in any industry. You'll become an expert on how financial markets perform and how to manage financial risk, and you'll get real-world experience with internships at a "Who's Who" of top firms.
Sample Careers
Financial Advisor
Financial Examiner
Financial Manager
Whether it's on behalf of an individual or an organization, a financing degree affords you the opportunity to help others manage resources efficiently and effectively. Concordia's Bachelor's of Science in finance boasts a three-part curriculum with a liberal arts core for a dynamic, well-rounded education. From there, students gain a solid foundation in general business which then offers a specialized focus in finance. 
From accounting to economics and statistics, your bachelor's in finance will set the groundwork for a wide array of financial and business management topics. These include the time value of money, interest rates, financial statements, capital allocation, stocks, bonds, derivatives, economic policy, international trade, foreign currency, regulation, and many others.
Recommended for you (based on programs you've viewed)
Undergraduate Application Steps
It's time to help you become a Cardinal! Just follow these simple steps to complete your application.

For first-time freshman:
Submit your online application
Have your school send your official high school transcripts. Transcripts may be mailed or sent via a transcript processing service to:
Concordia University Ann Arbor
Admissions Office
4090 Geddes Rd
Ann Arbor, MI 48104
Send your official ACT or SAT scores.
Scores on your high school transcript will be considered official. If your school does not put scores on transcripts, please contact ACT or College Board.
For transfer students:
Submit your online application
Submit official transcripts from all colleges/universities attended
*Transfer students with less than 60 college credits completed will also submit official high school transcripts. Students who have less than 30 college credits also need to submit official ACT or SAT scores. Scores on your high school transcript will be considered official.
Minimum Requirements
A minimum GPA of a 2.5/4.0 (C average) or higher
ACT composite of 18 or above
SAT equivalent of 940 or higher for combined math and evidence-based reading and writing (for tests taken after March 2016).
*If your GPA or ACT score falls below the minimum for acceptance, your admissions counselor may ask you to retake the test or supply additional documents, such as an essay or letters of recommendation, to complete the application.
Required Academic Coursework in High School
A minimum of 16 units of high school (secondary school) work is required, of which at least 11 should be in basic liberal arts areas. Units should be distributed as follows:
English: At least three units, but four are strongly recommended.
Mathematics: Two units of college-prep math, preferably one each in Algebra and Geometry.
Natural Science: Two units, preferably one each in Biology, Physics or Chemistry.
Social Studies: Two units, preferably one each in world history and American history.
Liberal Arts: Two units of the same foreign language or additional units in one or more of the other listed subjects or in fine arts.
Other Electives: Five units from any area of academic study, but ideally from the areas listed above.
German or Latin is recommended for pre-seminary students.
Timothy S. Scheppa
ASA, Ph.D. (ABD), Director of Actuarial Science
Assistant Professor
Phone: (262) 243-4225

Bio
After a seven-year professional career at three large insurance organizations, Professor Scheppa joined Concordia in 1999. He is an Associate of the Society of Actuaries and a former member of The American Academy of Actuaries.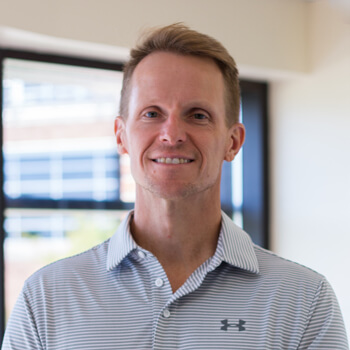 ---
Education
MS - Finance, University of Wisconsin - Milwaukee (1997)
BS - Mathematics, University of Wisconsin - Madison (1988)
Economics, University of Wisconsin - Milwaukee (2007)
---
Research Interests
Economic Impact of Recreational Activities
Actuarial Modeling
---
Teaching Interests
Actuarial Science
Probability and Statistics
Thomas R. Scholz
CFA, CPA
Associate Professor
Phone: (262) 243-2179

Bio
Tom Scholz teaches Finance and Economics. His research focus is on international trade and economic development. He is the advisor to CUW's student-led investment fund and the Investment Club.
---
Education
Ph D - international Development, University of Southern Mississippi (2021)
MBA - Finance, Economics, International Business, University of Chicago (2006)
BBA - Finance and Accounting, University of Wisconsin-Madison (1995)
---
Research Interests
International Economic Development
International Trade
---
Teaching Interests
International Economics and Finance
Applied Investment Management