School of Arts and Sciences
|
Department of Physical Sciences
Bachelor of Science in Pharmaceutical Sciences
Joining this field is a big responsibility, but it is also a wonderful honor. If you are eager to serve others in a life-changing way, a bachelor's degree in pharmaceutical sciences just might be for you.
Build a healthy community
Drugs are one of the greatest innovations of the modern era. When used appropriately and knowledgeably, they can improve and save lives. Yet we all recognize how easily they can be misused and misapplied. That is where you come in. By studying the benefits and risks of medicinal drugs, you can support the wellbeing of your entire community. Are you up for the challenge?
On-campus
All courses offered face-to-face on Ann Arbor's campus.
Dual Degree Option
Concordia University Wisconsin's School of Pharmacy and the School of Arts & Sciences have partnered to offer a 3+4 dual degree program. In the 3+4 dual degree program, students spend three years at CUAA as an undergraduate student taking classes towards a BSPS, while fulfilling the pre-pharmacy course requirements for CUW's Doctor of Pharmacy (PharmD) program. Upon admission into the PharmD program at CUW, students begin the four-year PharmD program. Students use courses taken during their PharmD program to fulfill BSPS degree requirements. In the 3+4 dual degree program, students earn a bachelor's degree at the end of the first year in the Doctor of Pharmacy program, with the PharmD degree awarded at the end of the four-year PharmD program.
The 3+4 program is a great option high school students should consider when applying to colleges. It is also a great option for Concordia freshman or sophomores to explore. At Concordia, you can work on your undergradate degree while also working toward a quick pathway to earning your Doctor of Pharmacy Degree.
It is worth noting that if you are not accepted into the PharmD program, you will be on track to earn a Bachelor of Science in Biomedical Sciences after four years of undergraduate coursework. Students who are accepted to the PharmD program (and, thus, earn their bachelor's degree in pharmaceutical sciences), may not double-major in biomedical sciences due to the substantial content overlap between these two programs.
Pharmacy Early Assurance Program for High School Students
High school seniors who meet the academic requirements and are confident that they want to be pharmacists should consider our Early Assurance Program. For Early Assurance, high school students indicate their interest in the CUW School of Pharmacy on their applications and are invited to apply to the program. Any students who progress along the program and meet the requirements do not have to re-interview for Concordia's School of Pharmacy and do not have to take the PCAT exam. Essentially, they have early assurance they will be admitted to the School of Pharmacy to earn their PharmD. Learn more about the early assurance program here. 
Pharmacy requires extensive knowledge within science, thus our pharmeceutical sciences program is very rigorous. With a career as a pharmacist as your ultimate goal, you strive to be the expert in the biochemistry of the body, the impact of pathological conditions, and the interaction with the pharmaceutical agents prescribed.
Recommended for you (based on programs you've viewed)
A solid high school background in math, writing, and science will help prepare students for success. For admission to pharmacy school, students must complete the Pharmacy College Admissions Test (PCAT), provide three letters of recommendation, and demonstrate understanding of the field of pharmacy.
Undergraduate application steps
Admit. Commit. That's it!
For first-time freshmen and transfer students:
Submit your

 

online application
Send Official High School Transcripts (College Transcripts if Applicable).
Send your official ACT or SAT scores
For those that would like to be considered as test optional in the admissions process, please contact your admission counselor. Students with a cumulative GPA below 3.0 are required to submit an ACT/SAT. You will receive an email and a phone call from your dedicated Admission Counselor. Please reach out to your counselor if you have any questions regarding the application process. We review each application on an individual basis using a holistic approach.
Katherine A. Bichler
Ph.D.
Professor
Office: Loeber Hall 012A
Phone: (262) 243-4426

Bio
Dr. Bichler did her undergraduate work at Carroll College, a private institution similar to CUW, and majored in chemistry with minors in biology and German. She then completed her Ph.D. in bioorganic chemisry at Northwestern University and has been teaching chemistry ever since.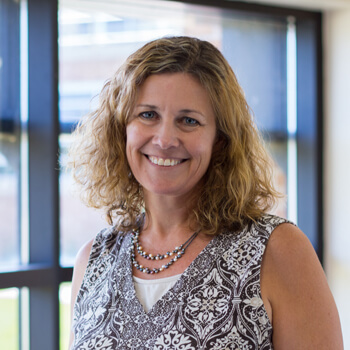 ---
Education
Ph D - Chemistry, Northwestern University (1994)
BS - Chemistry, Carroll College (1990)
---
Contributions
Lewandowski, N., Bichler, K., Fisher, L., Sullivan, B., Korman, M., Paz, E., Imhoff, A. & , ., (2020). Process Development of the Weiss−Cook Reaction for the Preparation of cis-1,5-Dimethylbicyclo[3.3.0]octane-3,7-dione in the Undergraduate Organic Laboratory. In Tom Holme (Ed.), (10 ed.,vol. 97,pp. 3835-3838). On-Line: Journal of Chemical Education.

https://pubs.acs....

McGraw, J., Bichler, K. & Cherney, M., The Relative Role of CYP3A4 and CYP3A5 in Eplerenone Metabolism. Mequon.
---
Presentations
Switzer, J., Hoefs, M., Bichler, K. & McGraw, J., (2020). Palmitoyl Asparagine Synthesis and Analysis. Poster. Spring 2020 National Meeting of the American Chemical Society. Philadelphia, PA (cancelled due to COVID).
---
Research Interests
Laboratory Pedogogy
CYP 450 Metabolism
---
Teaching Interests
Organic Chemistry
Biochemistry
Assistant Professor
Office: Science Building 106a
Phone: (734) 995-7420

Bio
Assistant Professor of Chemistry<br>Department of Physical Sciences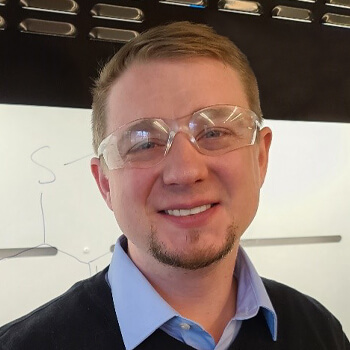 ---
Education
Ph D - Chemistry, University of Michigan (2016)
MS - Organic Chemistry, University of Michigan (2012)
BS - Chemistry, Hope College (2010)
---
Presentations
Ketchum, A. & Savage, K. (2022). S-Nitrosotriphenylmethanethiol Exhibits Promising Properties for Improving the Biocompatibility of Silicone Rubber During Blood-Contacting Medical Applications. Poster. ACS CERM Conference 2022. Eastern Michigan University.
---
Research Interests
Improving the Biocompatibility of Biomedical Materials
Pedagogy
---
Teaching Interests
Analytical Chemistry
Organic Chemistry
Jonathan D. Reasor
Ph.D. in Biological Sciences
Associate Professor
Office: Science Building S115
Phone: (734) 995-7474

Bio
Jonathan Reasor is a professor of Anatomy and Physiology. His research interests focus on learning and memory from the cellular and behavioral perspective. He investigates the effects of sleep on learning and memory acquisition.
---
Education
Ph D - Biological Science, Meharry Medical School (2003)
BS - Biology , University of Alabama at Brimingham (1992)
---
Research Interests
Synaptic Physiology
Learning and Memory
---
Teaching Interests
Anatomy and Physiology I and II
Pathophysiology
Department Chair - Life and Earth Sciences, Professor
Office: Siebert Hall SH007F
Phone: (262) 243-2046

Bio
I enjoy serving the church and students at all levels by helping people to articulate scientific concepts in a manner consistent with their faith in both secular and religious venues .
---
Education
Ph D - Molecular Cell Biology, Washington University in St. Louis (2004)
BS - Biochemistry, Zoology, Michigan State University (1998)
Colloquy for LCMS teachers - Concordia University Irvine (2008)
---
Contributions
Young, M. (2021). On the need for a thoughtful distinctively Lutheran perspective on creation. (3 ed.,vol. XXX,pp. 35-40). Fort Wayne, IN: Logia.
Young, M. (2021). The Science Behind Genotype, Contributor and Lead Editor of booklet that accompanies the board game Genotype. St. Louis, MO: Genius Games.
Soper, R. & Young, M. (2015). "Methodological Cohesion in the Biological Sciences and Lutheran Theology." In Scott A. Ashmon (Ed.), The Idea and Practice of a Christian University. St. Louis, MO: CPH.
---
Research Interests
Yeast membrane domains defined by Sur7p
Cohesion of Christianity and Scientific Thought
---
Teaching Interests