School of Arts and Sciences
|
Department of Modern Language
Minor in Spanish
Broaden your communication skills with a Spanish minor at Concordia University Ann Arbor.
Communicating with the world around you
There are around 40 million people who speak Spanish in the United States alone, making it the most spoken, non-English language in America. That's a LOT of people. Do you have a desire to reach out and communicate with this population? Or maybe you'd like to go overseas? With CUAA's Spanish minor, you have several opportunities to experience Spanish culture. Students study abroad and gain a global perspective. They also stay right at home and gain a greater understanding of the Spanish-speaking world through participation in on-campus activities and small classroom settings.
Spanish speakers are one of the fastest-growing segments of the United States population—increasing over 233 percent since 1980! With these kinds of statistics, the chances are good that you'll encounter Spanish-speaking neighbors, coworkers, or students in your classroom. A Spanish minor can put you in a good position to effectively communicate and be of service to this growing population. This 24-credit-hour course will enhance your conversational and writing skills, as well as prepare you for interacting with people within the Spanish culture.
The CUAA Spanish minor allows you to study abroad and gain a global perspective. Many on-campus activities will also help build your skills. Individualized placement allows you to start at the most appropriate level without taking a placement test. With our program, you can enhance your grammar skills, increase your vocabulary, improve your conversational skills, and gain a greater understanding of the growing, Spanish-speaking world.
Recommended for you (based on programs you've viewed)
Undergraduate Application Steps
It's time to help you become a Cardinal! Just follow these simple steps to complete your application.

For first-time freshman:
Submit your online application
Have your school send your official high school transcripts. Transcripts may be mailed or sent via a transcript processing service to:
Concordia University Ann Arbor
Admissions Office
4090 Geddes Rd
Ann Arbor, MI 48104
Send your official ACT or SAT scores.
Scores on your high school transcript will be considered official. If your school does not put scores on transcripts, please contact ACT or College Board.
For transfer students:
Submit your online application
Submit official transcripts from all colleges/universities attended
*Transfer students with less than 60 college credits completed will also submit official high school transcripts. Students who have less than 30 college credits also need to submit official ACT or SAT scores. Scores on your high school transcript will be considered official.
Minimum Requirements
A minimum GPA of a 2.5/4.0 (C average) or higher
ACT composite of 18 or above
SAT equivalent of 940 or higher for combined math and evidence-based reading and writing (for tests taken after March 2016).
*If your GPA or ACT score falls below the minimum for acceptance, your admissions counselor may ask you to retake the test or supply additional documents, such as an essay or letters of recommendation, to complete the application.
Required Academic Coursework in High School
A minimum of 16 units of high school (secondary school) work is required, of which at least 11 should be in basic liberal arts areas. Units should be distributed as follows:
English: At least three units, but four are strongly recommended.
Mathematics: Two units of college-prep math, preferably one each in Algebra and Geometry.
Natural Science: Two units, preferably one each in Biology, Physics or Chemistry.
Social Studies: Two units, preferably one each in world history and American history.
Liberal Arts: Two units of the same foreign language or additional units in one or more of the other listed subjects or in fine arts.
Other Electives: Five units from any area of academic study, but ideally from the areas listed above.
German or Latin is recommended for pre-seminary students.
Sara Clemm von Hohenberg
Ph.D.
Coordinator - Teacher Certification Program for CUAA, Associate Professor
Office: Krieger K125
Phone: (734) 995-7326

Bio
Dr. Sara Clemm von Hohenberg serves as the Coordinator of the Masters of Science in Curriculum and Instruction with Teacher Certification Program. She teaches Teaching and Learning, Human Growth and Development, Differentiated Instruction, Cultural Geography as well as online courses in the Masters program.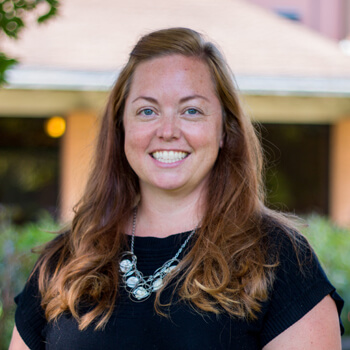 ---
Education
Ph D - Instructional Leadership, Northcentral University (2018)
MA - Educational Leadership, Oakland University (2005)
BA - Secondary Education, Western Michigan University (2002)
---
Research Interests
Teacher Preparation Candidate Dispositions
Professional Semester Experiences
---
Teaching Interests
Differentiated Instruction
Teaching and Learning