Full Time Faculty
Director of Instrumental Music – Dr. William Perrine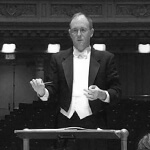 William Perrine serves as Associate Professor of Music and Director of Instrumental Activities at Concordia University Ann Arbor. He directs the Wind Ensemble, Orchestra, and Cardinal Regiment Marching band, as well as teaching course in music education, conducting, and music history. Under his direction the Wind Ensemble and Orchestra have developed a national reputation for excellence. The Wind Ensemble's 2016 Carnegie Hall debut was critically praised as "stunning and inspirational…one of the finest wind bands in the nation," while the ensemble's 2018 Chicago Symphony Center performance was recognized at the 2019 CBDNA Small Program Showcase and received 3rd Place in the 2021 American Prize competition. Dr. Perrine also founded the Concordia Orchestra in 2014, which was also recognized as a finalist in the 2021 American Prize competition. He holds a doctorate of philosophy in music education from Indiana University, a master of music degree in conducting from the University of Nebraska-Lincoln, and an undergraduate degree in music education from Transylvania University. Dr. Perrine also serves as the conductor of the Washtenaw Community Concert Band.
Prior to his appointment at Concordia, Dr. Perrine spent ten years teaching in Title I schools in Kentucky and Florida, where he earned his National Board Teacher Certification. Ensembles under his direction performed at both Carnegie Hall in New York City and at Kennedy Center for the Performing Arts in Washington D.C. His public-school teaching experience continues to inform his philosophical research and advocacy for large ensemble music education; his research areas include public policy and the development of pre-political spaces in the music curriculum. Dr. Perrine has presented his peer-reviewed research at many national and international conferences and symposia, and is published with the Philosophy of Music Education Review, Journal of Historical Research in Music Education, Arts Education Policy Review, Action, Criticism, and Theory in Music Education, and the Music Educators Journal. His edited volume, The Future of the Wind Band, is available through GIA Publications, while his monograph Beauty, Reason, & Power: Music Education in a Pluralist Society is scheduled to be published by Peter Lang in late 2022.
Director of Church Music – Dr. John Boonenberg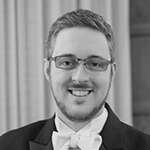 John Boonenberg serves as Director of Worship Arts Leadership and Assistant Professor of Music at Concordia University—Ann Arbor. As a long-time Director of Music Ministry, performer, and teacher, Dr. Boonenberg has been involved in the full musical life of the church—playing organ, piano, guitar, and other instruments for worship services, conducting choirs and instrumental ensembles, and teaching general music and drama in Lutheran schools. Under the guidance of Dr. Boonenberg, his school choirs have consistently won superior ratings at the Lutheran School Music Festival, and his adult choir has sung at several conferences and hymn festivals. Many of Dr. Boonenberg's student-musicians have won numerous awards at various music festivals throughout the state.
Dr. Boonenberg is passionate about liturgical renewal in the church and creative worship planning. Enjoying a wide variety of musical styles, Dr. Boonenberg believes simple congregational song and music of the highest artistic achievement join together in the praise of God and in the proclamation of the Word. He believes in utilizing the varied musical gifts of congregation members to glorify God in Word and Song, and to edify the community of believers. He takes special interest in historic Lutheran hymnody, Contemporary Christian songwriting, music from the Taize community, and the music of J.S. Bach.
Dr. Boonenberg holds degrees from The University of Michigan (BM, DMA) and The Juilliard School (MM).
In his spare time, Dr. B. enjoys spending time with his wife Claudia and daughter Nora, running, and cheering on UM football and Detroit sports teams.
Piano and Music Theory - Angie Zhang
Soloist Angie Zhang has firmly established herself as one of the leading American artists, pedagogues, and visionaries of her generation. Truly multi-faceted, she is consistently praised by multi-industry executives, presenters, and audiences for her charismatic presence and sensational interpretations of old and new works on modern and early keyboard instruments. Following a serendipitous and life-altering experience performing on one of the world's most ornate Viennese fortepianos, Angie began a lifelong journey of sharing her unique story as a one-of-a-kind concert pianist with live and digital audiences. Her deep devotion to artistic excellence and historical appreciation has led her to become a leading expert and bold storyteller of the piano lineage and repertoire.
Praised as "warmly expressive, sensitive, and polished" and "a valuable advocate for classical music" by New York Concert Review, she is committed to showcasing the harpsichord, fortepiano, and modern piano as solo and collaborative instruments in impactful and awe-inspiring ways. Angie has captivated audiences and presenters alike with her rich musical offerings, breathing life into pieces both old and new with historically-informed yet unmistakably-modern interpretations and electrifying execution. Recognized as a colossal force in the performing arts industry with her signature approaches for genuine audience engagement and innovation in classical music performance and pedagogy, she was awarded the 2022 Grand Prize of the Music Academy's Innovation Institute Competition following an intense multi-level vetting process by professionals in the music and business industries.
Internationally-sought after as a solo harpsichordist, fortepianist, and modern pianist, she has been invited by prestigious concert presenters at Lincoln Center, La Jolla Music Society, Bravo! Vail, Tippet Rise Art Center, Sarasota Music Festival, Perlman Music Program, Explorers Club, American Liszt Society, and many others. At age ten, she was invited to study at the Pre-College Division at Juilliard and made her orchestral solo debut playing a concerto by one of her favorite composers, Mozart under GRAMMY-nominated conductor Niel DePonte. Since then, she has gone on to perform over 30 times with orchestras all over the world with conductors such as Fabio Luisi and Jeffrey Kahane. She has been a concertizing soloist and chamber musician since age seven, and has since collaborated with the Dover, St. Lawrence, and Aeolus Quartets, Inon Barnatan, Xavier Foley, Liza Ferschtman, Stefan Jackiw, Tessa Lark, Alexi Kenney, and Sterling Elliot. With Zlatomir Fung, she has performed the entire Beethoven Cello and Piano Works. Her vast performance repertoire (solo, chamber, and concerti) and thrilling multi-media presentations on multi-keyboard instruments have brought audiences to their feet with many re-engagement invites at festivals and beyond.
Angie's engagement with music appreciators and artists does not stop onstage with her performances on pianos of all shapes, sizes, and eras. Her prioritization of honest human interactions and an impact-driven mindset has set her apart as someone who is equally passionate about the advancement of piano pedagogy, professional development for teachers, empowering pianists of all levels with performance psychology and mental practice armor, educational ventures, and cross-pollinating audiences from music, art, fashion, and sports.
She holds a BM and MM with Chamber and Academic Honors from The Juilliard School, where her principal teachers include Yoheved Kaplinsky and Joseph Kalichstein. Other influential mentors include Wu Han, Robert Levin, and Jeremy Denk. She is currently Assistant Professor of Piano and Theory at Concordia University-Ann Arbor and a DMA Candidate in Piano Performance at University of Michigan with Logan Skelton. Angie completed her MM in Fortepiano Performance with Matthew Bengtson, and has taken harpsichord lessons with Peter Sykes and Joseph Gascho. Her organ teachers include James Kibbie and Peter Sykes, and her cello teachers include Andre Emelianoff.
In 2018, Director of Yamaha Artist Services Bonnie Barrett signed Angie as a Yamaha Artist after following her career for several years. She has unfettered usage of the Metz/Schreiber private collection consisting of 12 instruments, both originals and replicas, spanning from 1600-1958. Her decorated performance career is complemented with a deep dedication to building lasting friendships with life-long learners and supporters of the arts.
Applied Faculty – Voice
Voice – Kara Alfano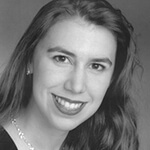 Kara Alfano has performed with opera companies and vocal groups throughout Michigan, including Michigan Opera Theatre, Opera Grand Rapids, Arbor Opera Theatre, Motor City Lyric Opera, the Comic Opera Guild, Lakeshore Chamber Singers, and Vox Early Music Ensemble. Her roles have included Dido in Dido and Aeneas, Adele in Die Fledermaus, Sister Constance in Dialogue of the Carmelites, Susanna and Barbarina in The Marriage of Figaro, Mercedes in Carmen, The Princess in The Goose Girl, Second Lady in The Magic Flute, and The Sandman in Hansel and Gretel. On the concert stage, Ms. Alfano has been a featured soloist in Honnegar's King David, Handel's Messiah, Vivaldi's Gloria, and Bach's Mass in b minor. Past awards have included the Seth F. Hokanson Voice Scholarship (National Award), and The Jenny Lind Voice Award (Michigan).
A dedicated teacher, Ms. Alfano serves on the voice faculty at Concordia University, where she currently teaches voice lessons and has taught Vocal Arts Lab and the Concordia Chorale. She has also taught voice at the Ann Arbor School of Performing Arts, The Chelsea Center for the Arts, Grosse Pointe South High School, and Saline High School.
Ms. Alfano received her training at the University of Michigan School of Music, earning both Bachelor's and Master's Degrees in Voice Performance. As a member of the UM Chamber Choir, she sang on the 2004 Naxos recording of William Bolcom's Grammy award winning Songs of Innocence and Experience. She has studied under Carmen Pelton, Freda Herseth, Edward Parmentier, and Martin Katz.
Voice, Women's Chorale – Dr. Natalie Downs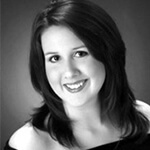 Natalie Emptage Downs teaches voice and directs the Women's Chorale at CUAA. She holds a Bachelor of Music from Otterbein College, a Master of Music from Michigan State University, and a Doctor of Musical Arts from Michigan State University.
As a light lyric soprano, Dr. Downs is an active recitalist and has performed in various opera and musical theatre productions. Most recent performances include The Barber of Seville, The Red Mill, Le nozze di Figaro, Gianni Schicci, Candide, and Brigadoon. She has sung the soprano solo in Camille Saint-Saëns' Christmas Oratorio and Gabriel Fauré's Requiem. In 2008, Dr. Downs was the winner of the Charlotte Ruppel Memorial Voice Award from The Birmingham Musicale located in Birmingham, MI. She has also been featured in many operetta recordings with the Comic Opera Guild of Ann Arbor, MI. Most recent recordings include Victor Herbert's Golden Girl and Girl in the Spotlight.
Dr. Downs also serves as Director of Choirs and Special Music at Zion Lutheran Church in Ann Arbor. She has previously taught at Spring Arbor University, Michigan State University, and served as the vocal area chair at the Michigan State University Community Music School.
Dr. Downs' research primarily focuses on women in music. Her doctoral thesis is entitled "The Diva Without A Voice: Pauline Viardot and the Problem With Biography." Dr. Downs was awarded a research enhancement grant from the Michigan State University Graduate School and College of Music, which was used to conduct research at the Houghton Library at Harvard University on Viardot's vocal music.
Voice – Lorna Young Hildebrandt
Soprano Lorna Young Hildebrandt, who "warbled effortless roulades with lovely charm, seemingly perfect ease and impeccable intonation" (Simon Wainrib, Berkshire Record/Berkshire Bach Society, MA) specializes in performing repertoire of the great Baroque composers such as Handel, Bach and Vivaldi along with earlier composers of the 16th and17th centuries. Ms. Hildebrandt performs on concert series in Ann Arbor and in the Southeastern Michigan area including the DIA's Brunch with Bach Concert Series, the Plymouth Oratorio Society and has presented fringe concerts in conjunction with the Boston Early Music Festival. Recent solo oratorio performances include Bach's BWV 51 Jauchzet Gott in allen Landen, Vivaldi's Magnificat, Schumann's Requiem, Mozart's Sparrow Mass, Gasparini's Mass in G, Haydn's Grosse Orgelmesse and Handel's Judas Maccabeaus.
In the spring of 2014, Ms. Hildebrandt will collaborate with other Baroque musicians for a performance on the Academy of Early Music 's concert series entitled Concerto della Donne featuring the virtuosic and elegant repertoire of the "Ladies of Ferrara" for three sopranos. This performance will be presented at St. Andrew's Episcopal Church in Ann Arbor, Michigan. (info@academyofearlymusic.org).
Ms. Hildebrandt has enjoyed coaching and teaching privately for over fifteen years. As an adjunct professor at Concordia University she has taught voice for over ten years. Ms. Hildebrandt's vocal performance degrees are from the University of Michigan School of Music. Additional study in early music performance practice includes the Early Music Vancouver Programme and the Amherst Early Music Baroque Academy. For vocal pedagogy, she attended Richard Miller's Summer Vocal Arts Conference at Oberlin College and Conservatory. She is the soprano soloist and section leader at First Presbyterian Church in Ann Arbor.
Recordings featuring Ms. Hildebrandt singing Gregorian chant and 16th & 17th century repertoire written by women composers such as Donna Chiara Margarita Cozzolani and Barbara Strozzi may be heard on the Ave Maria Press label. She also lends her light, clear voice to recording contemporary works by local and University composers, such as Professor Andy Kirshner's music-theater work, The Museum of Life and Death based on the medieval morality play of Everyman. Lorna lives in Saline with her husband, Mark, and their two children.
Applied Faculty – Instrumental