Save the Date for Homecoming and Family Weekend October 16th – 22nd, 2023!
Hello, Cardinal Community! We are gearing up for Homecoming and Family Weekend! The 2023 Homecoming and Family Weekend is now live! Please scroll below to see what is in store for Cardinals this year! Thank you, and we look forward to hosting you this Fall!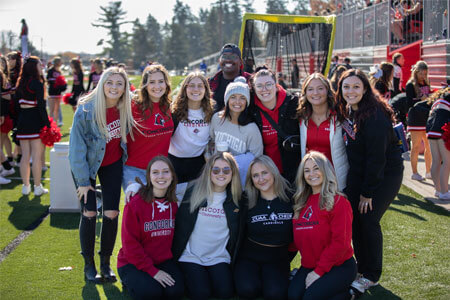 2023 Homecoming Week Schedule
2023 Family Weekend Schedule
Haven't registered for Family Weekend? Fill out the form linked below:
Friday, October 20
Breakfast Social & Check In
Time: 9:30 am – 10:30 am
Location: The Nest
Family Weekend will begin with a Continental Breakfast Social and Check-in! Family Weekend registration is preferred but not required; however, registration for the Family Luncheon is required. Guests who have registered for the Family Luncheon will receive a wristband upon checking in.
Chapel
Time: 10:30 am – 11:00 am
Location: Chapel of the Holy Trinity
Let us worship together in our daily Chapel service as we extend a welcome to all visiting families!
Presidential Briefing
Time: 11:15 am – 11:45 am
Location: Chapel
Hear important campus updates for the Cardinal community from our Vice President of Administration. There will be time toward the end for a Q&A.
How to Support Your Student
Time: 11:45 am – 12:15 pm
Location: Kreft Music Recital Hall
This session will be led by the Counseling and Psychological Services (CAPS) Department. Learn how to support your student as they develop in mind, body, and spirit!
Family Luncheon
Time: 12:30 pm – 2:00 pm
Location: Kreft Music Recital Hall & Central Campus
The Family Luncheon will be the penultimate affair for Friday's events and is open to the entire campus community! The luncheon will have an indoor and outdoor component. The catered lunch will take place inside (registration required). Outside, there will be a tent in Central Campus where you can find cardinal themed plushies, hot cocoa, and snacks! In addition, we will be offering a family portrait photo opportunity, bonfire, smores, and music!
Women's Hockey
Time: 8:00 pm
Location: Arctic Edge, Canton
Department: Athletics
Show your Cardinal Pride as we cheer for a Cardinal win for Women's hockey!
Homecoming Olympics: Family Obstacle course
Time: 9:30 pm
Location: Gym
Department: Student Events
Grab a family member, friend, or staff member to help your Homecoming Olympic team cross the finish line to victory!
Saturday, October 21
Tailgate
Time: 11:00 am - 1:00 pm
Location: Outside the Stadium
Department: Ryan's office / Sodexo
Calling all past and present Cardinals and extended Cardinal families! Get hyped for the Homecoming Game at the Campus Tailgate! More info to come!
Football Game
Time: 1:00 pm
Location: Ferry Field
Department: Athletics
Families and Students, show your Cardinal Pride as we cheer for a Homecoming Football Win!
Alumni Social
Time: 4:30 pm / 5:00 pm (after game)
Location: Arbor Brewing, 720 Norris Street, Ypsilanti
Department: Advancement / Alumni Relations
Men's Hockey
Time: 4:30 pm
Location: Arctic Edge, Canton
Department: Athletics
Show your Cardinal Pride as we cheer for a Cardinal win for Men's Hockey!
Drive in Movie
Time: 7:00 pm - 9:00 pm
Location: Centeral Campus
Join us as we celebrate the close of Homecoming and Family Weekend watching Guardians of the Galaxy Volume 3!
Plan your visit
Hotels
There are plenty of hotels for every budget in the Metro-Detroit area! Below are a few hotels closest to campus. Feel free to use these hotels as suggestions as you search for hotels that will best suit your family needs!
Microtel Inn & Suites by Wyndham Ann Arbor

6 minutes from CUAA
3610 Plymouth Rd, Ann Arbor, MI 48105
(734) 585-2457

Wyndham Garden Ann Arbor

22 minutes from CUAA
2900 Jackson Ave, Ann Arbor, MI 48103
(734) 249-6157

Ann Arbor Regent Hotel & Suites

11 minutes from CUAA
2455 Carpenter Rd, Ann Arbor, MI 48108
(734) 973-6100

DoubleTree by Hilton Ann Arbor North

10 minutes from CUAA
3600 Plymouth Rd, Ann Arbor, MI 48105
(734) 769-9800

Comfort Inn & Suites University South

16 minutes from CUAA
3501 S State St, Ann Arbor, MI 48108
(734) 768-2046
Parking
Please click the Parking Map button below for a breakdown of where to park on campus. For more information regarding parking, please click the Vehicles Rules and Regulations button to view the CUAA's parking rules and regulations.
Parking Map Vehicles Rules and Regulations
Questions
General questions about Homecoming Weekend can be directed to LaDonna Hawthorne at ladonna.hawthorne@cuaa.edu.