CUAA residence halls at a glance
Living on campus is a great way to get the full "college experience." This is where you'll make new friends from all over, enjoy new freedoms (popcorn for dinner, anyone?) and the responsibilities that come with it (yep, you'll have to do your own laundry).

We've tried to make CUAA's residence halls a great home away from home. Read on for some quick facts about our residence halls and check out diagrams of example rooms.
Each hall at Concordia holds no more than 32 students, with separate residences for men and women
Student rooms and common areas have central heating, air conditioning, and wifi access
All student rooms on campus are set up in a suite, with two rooms and one bathroom per suite. This means that you and your roommate will share a bathroom with only two other students.
Each room contains beds, drapes or blinds, dressers, desks with built-in bookcases, and wardrobe-style closets (Note that students aren't able to stack university furniture except as designed by manufacturer, remove any university-issued furniture from a room, or construct any loft, partition, or mounted shelves.)
Every room is equipped with high-speed wifi, ethernet, and cable television service
All suites are open to a common area (CA) within the hall. Each hall's CA has a full kitchen and seating for snacking, studying, and socializing
Click here for a printable version of the campus map.
Suite style residence halls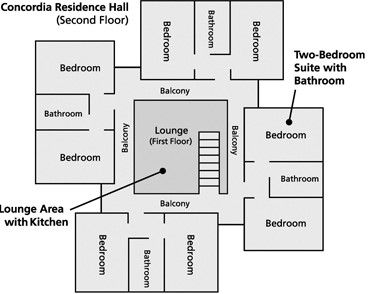 Two bedroom suite