Create. Connect. Inspire.
Concordia University Ann Arbor's Theatre department strives to develop the next generation of professional theatre artists by nurturing student's individual creativity to form stories into lasting performances that inspire and positively connect with the community.
Our Vision
For over 30 years, the theatre department at Concordia University Ann Arbor has held the reputation of positively impacting the community through the stage. Our Black Box Theatre has hosted over 65 productions and continues with a full season of excellent performances. We also provide academic theatre classes to enhance students' education. Join our newest generation of artists on stage and beyond.
Performance
Our Mainstage Productions are given full technical support with scenery, lighting, costumes, sound, and orchestra. Our academic year begins with a fall play and ends with a spring musical. Auditions are held at the beginning and end of the fall semester. Rehearsals are held Monday through Thursday evenings and work around students' busy schedules.
Our Student Series Productions provide opportunities for student leadership and are held throughout the year varying from one-acts, scenes, radio shows, cabaret, theatre ministry, and children's theatre.
Each December, students, faculty, staff, and community members come together for the Boar's Head Festival, to enact medieval Christmas traditions and the story of Christ's birth in a moving spectacle.
Involvement in theatre at Concordia is encouraged for students of all disciplines, not just those pursuing a minor in theatre. Opportunities for participation are available in performing, assistant directing, stage management, and crafting behind the scenes.
To become involved email our director of theatre, Amanda Williams, Amanda.Williams@cuaa.edu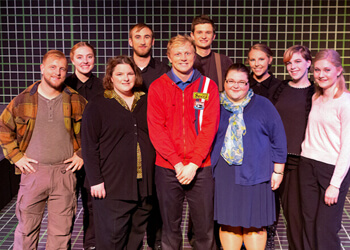 The Curious Incident of the Dog in the Night-Time (2019)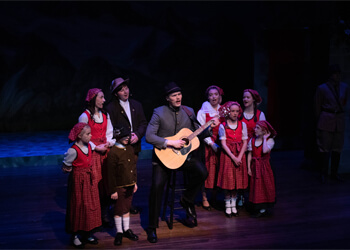 The Sound of Music (2022)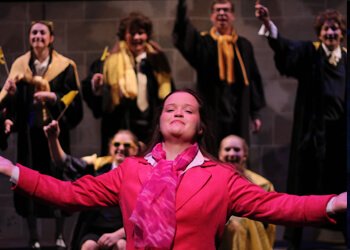 Scholarships
What could be better than getting scholarship money for being involved in something you love? Students can audition for up to $3,000 in scholarship renewed annually. This scholarship is not just for those on stage, but is also available to stage managers, set designers, or technical experts.
Minor in Musical Theatre
Concordia University Ann Arbor's theatre department strives to develop artists who use the stage as a tool to expound on their individual creativity to form stories into lasting performances that inspire and positively connect with the community.
Minor in Theatrical Communication
Theatre is a community pursuit that will leave you with a better understanding of the world around you.