Concordia's
Commitment
Concordia University is committed to building a community where Christ is LORD and all are loved.
Diversity and belonging at Concordia University
Concordia University affirms the worth and dignity of every person. The love of Christ Jesus compels us to love others without exception. As scholars, students, and educators, we value the differences in people and believe these enrich the Christian university, where together we develop in mind, body, and spirit for lives of service and leadership throughout the Church and world. We commit to building a community where every person encounters opportunities to discover and use their unique, distinct God-given gifts.
Our vision
Concordia University is an uncommon community of students, faculty, alumni, and staff who are gifted by grace and ever-preparing to live out our purpose to serve Christ in the Church and world.

CUAA Initiatives
Concordia is community, and an increasingly diverse one. The ability to relate well and warmly with all people is a skill that each of us can develop. And it is effort we are glad to make. God has given us each other. He Calls us in Christ to love our neighbors; those we are most like and those very different from us. As we think together and walk together in our diverse community, let's give thanks for it – for Jesus' sake.
By the Numbers
We are a learning community at the junction of knowledge and Christian faith, where students develop their God-given potential and prepare to lead uncommon lives of higher professional purpose for the betterment of self and community. All of the schools, programs, and initiatives of the university are guided by shared fidelity to this central promise.
96
students benefit from disability services
18%
US ethnic minorities in CUAA's traditional undergraduate student body
50
opportunity grants awarded to US ethnic minorities
46-54%
undergraduate male-female student ratio
201
first generation students in CUAA's traditional undergraduate student body
Leading the community forward
All of us at Concordia University play a role to lead our community forward on issues of diversity and belonging. Learn how you play a role.
Uncommon Lives
Shanitra Cheff
Director of Multicultural Engagement - "I believe it is our responsibility to prepare our students to go out into the world after graduation and engage in tough conversations over a diverse group of meaningful topics knowledgeably and confidently."
Richard Branch ('22)
BSU Leader, First Generation College Student, Student Athlete, Marketing Major - "Between student events, open conversations, and student advocacy, we are working together to make sure there are opportunities at Concordia to lean in, listen and learn from one another. Sometimes it's uncomfortable to talk about, but that's okay. That's what we need to do to make a difference."
Nicole Evans ('21)
First Generation College Student, Student Athlete, Honor Roll Student, Accounting Major - "When I'm at Concordia, I feel comfortable, happy, supported, and loved. Resources like the Academic Resource Center, caring professors, and friendly staff are always available to help. My professors are so kind and care about my growth both intellectually and spiritually, providing extra help going above and beyond for me. Concordia is my home away from home!"
Alex Premo ('22)
Student Athlete, Latinx Club Leader, Hospitality and Event Business Major - "Recognizing diversity is super important—especially at a university—because everyone comes together from different environments, and it helps us all learn to understand and respect each other's differences! Concordia especially has demonstrated growth in recognizing diversity, providing a safe environment for students no matter their culture. This year alone I've noticed different clubs and the activities that go along with them, creating a positive atmosphere on campus and among our student body."
Nygie Rhodes ('22)
Musician, Student Athlete, First Generation College Student, Justice and Public Policy Major - "Someone once asked me, 'How do you stay motivated?' I replied, 'My passion, my heart, and my family is what drives me to succeed to the best of my abilities. If I ever feel burdened to where I want to give up, I just remember that I have people rooting me on and a university that supports me.'"
News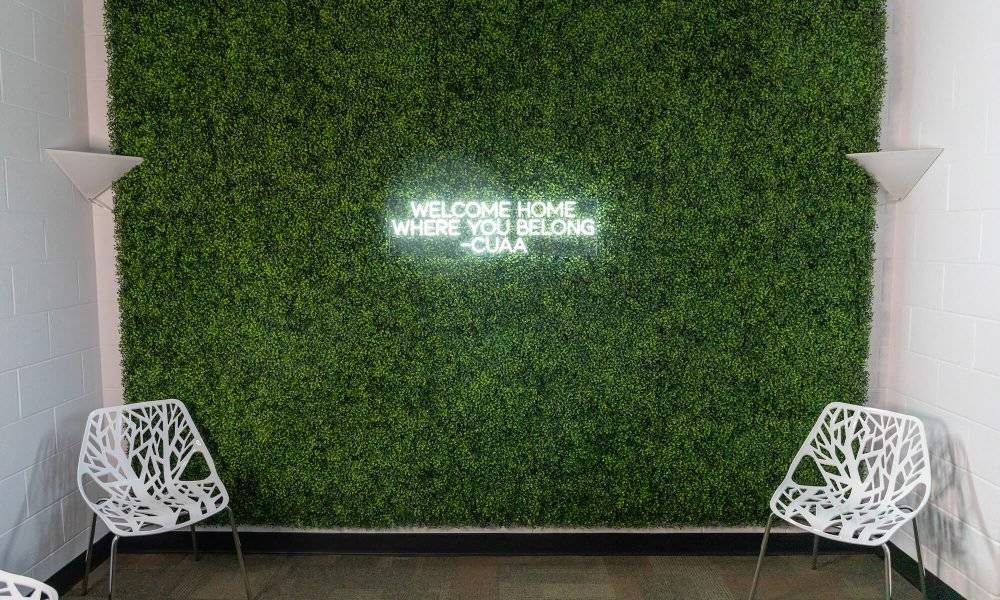 New center on CUAA campus serves student needs
Jan 23, 2023
Concordia University's Office of Multicultural Engagement has recently renovated one of the guest houses on campus into the Center for Intercultural Affairs. The center will officially open on... Read More