Study abroad for the experience of a lifetime
See the world and experience new places and cultures with Concordia's Study Abroad program. The new experiences will help you expand your horizons and perspectives, and can benefit you professionally as well. We offer more than 500 programs in 48 different countries, ranging from one week to semester-long academic programs, part-time or full-time internships, and service learning opportunities. We'll work with you to find the location that is right for you, from small towns to big cities. We can also help you find scholarships and grants to make your experience affordable. With so many options, there's something for everyone! Where will you go?
Study Abroad
Why study abroad?
Studying abroad is often described by students as the most enriching, formative and exciting experience of their college careers. You'll have the opportunity to:
Travel and explore other countries
Learn about another culture first-hand to expand your worldview
Experience personal growth in response to living, adapting, and functioning in another culture
Be challenged in your faith as you learn what it means to live it out in an unfamiliar setting
Make friends from around the world
Gain an international perspective and develop intercultural communication skills
Become more conscious of your own culture and perspectives
Break out of your academic routine – take a chance by challenging yourself
Learn a language through immersion
Top five study abroad myths - busted
Myth 1: I can't afford to study abroad.
Fact: Yes, you can! For most semester programs, tuition is the same as at Concordia. You're also still eligible for federal, state, and institutional financial aid while you study abroad. There are also additional scholarships available just for study abroad programs that most students qualify for.
Myth 2: Studying abroad will delay my graduation.
Fact: We can help you find a program that keeps you on track to graduate on time! With over 500 different program options for students to choose from, there is something for everyone to allow you to find the courses you need.
Myth 3: I don't speak a foreign language, so I can't study abroad.
Fact: Most students who study abroad don't speak a foreign language! English is the 3rd most common language in the world. We offer dozens of programs in English-speaking destinations like England, Scotland, Ireland, South Africa, Australia, New Zealand, and Singapore. Even in non-English speaking destinations, the majority of courses are taught in English.
Myth 4: I can't leave for a whole semester because I'll miss out on being with my friends and family.
Fact: Not studying abroad is a bigger regret than not being at home for 4 months. Graduating seniors were surveyed and not studying abroad was one of their biggest regrets! You'll meet other American and international students during your program, and it's a great opportunity to make life-long friendships with people from all across the world.
Myth 5: Studying abroad isn't for me.
Fact: It can be! Not only do we have programs that are catered to your academic needs, but we also have programs that fit you uniquely. From small towns to the big city, we can find the location that best fits your personality and needs. Many locations provide accommodations to any student who receives them on their home campus.
Study Abroad
Personally Rewarding, Financially Accessible
Concordia offers a variety of affordable programs and funding options, including scholarships and grants, for our study abroad students:
Don't miss out on the experience of a lifetime. For more information about our programs, funding, and FAQs, explore Concordia's Study Abroad programs today!
Meet the Staff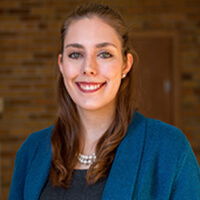 Margaret Leimkuehler
Study Abroad Program Coordinator
262-243-2132
margaret.leimkuehler@cuw.edu

Originally from Toledo, Ohio, Maggie frequently travels between the Mequon and Ann Arbor campuses. Maggie has studied abroad in Buskerud, Norway; Alcala de Henares, Spain; and Salzburg, Austria. She has also spent time in Nejapa, Nicaragua doing mission work. Maggie speaks English, Spanish, German, and some Norwegian. She has a BA in Spanish and German from Bowling Green State University.