Earn your master's and Michigan Teaching Certificate online
Concordia's Teacher Certification Program is the perfect fit for those who currently hold a bachelor's degree in any subject area but wish to move into the world of education. Our accelerated program allows you to earn both a master's degree and Teacher Certification online through convenient eight-week, self-paced courses.
Self-Paced
All courses offered 100% online and at your own pace.
Scholarships
Exclusive scholarships for adult and post-traditional learners.
View Scholarship's
Questions? We're here to help
Our team is available to help you as you consider the next step in your education.
Get answers to your questions
Our team is standing by to assist you with additional program details, financial aid options, and admissions questions.
Concordia University will not share your personal information. By submitting this form you agree to be contacted about Concordia's Education Offerings.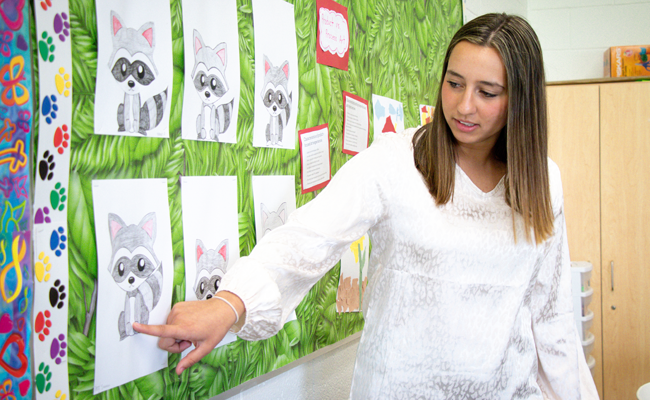 Interested in a shift in your career? Concordia's alternative teacher certification program allows you to earn your Teacher Certification in elementary education. Our flexible post-baccalaureate program makes it so you can continue working while completing your coursework, with the flexibility to complete student teaching at a school local to you. Combining your teaching certification with a master's in curriculum instruction (MSCI) can set you apart in the field, with an added bonus of being eligible for financial aid!
Certification options
Candidates can choose to earn an elementary certification in the following grade bands:
PreK - 3rd grade (Lower)

3rd - 6th grade (Upper)
Candidates complete a 30-credit education sequence which allows them to teach at the elementary level while earning a Master's of Science in Curriculum and Instruction. Courses are offered entirely online and credit can be given for previously completed education courses at the graduate level. You will be equipped to teach in PK-Grade 3 or Grades 3-6 in both the private and public sectors.
You'll also learn how to design and use teaching methods in your content area that will make a meaningful impact in the classroom. Our Teaching Certificate Program takes a faith-based approach, which means you will bring faith and learning together in a meaningful way for your students. You will not only graduate equipped to plan lessons, but you will also learn how to build relationships to manage a classroom, use technology and best practices to engage in effective teaching, and be an educator dedicated to service in the classroom, church, and community.
Questions? We're here to help