School of Education
|
Department of Graduate Education
Master of Science in Curriculum & Instruction with Teacher Certification in Secondary Education
Our post-baccalaureate MDE approved teacher preparation program lets you earn your Teacher Certification and MSCI in an collaborative online format.
Earn your master's and Michigan Teaching Certificate online.
Concordia's Teacher Certification Program is the perfect fit for those who currently hold a bachelor's degree in any subject area but wish to move into the world of education. Our collaborative program allows you to earn both a master's degree and Teacher Certification online through convenient eight-week, self-paced courses.
Self-Paced
All courses offered 100% online and at your own pace.
Scholarships
Exclusive scholarships for adult and post-traditional learners.
View Scholarship's
Cohorts
Eight week cohorts begin every: July, August, October, January, March, and May.
Questions? We're here to help
Our team is available to help you as you consider the next step in your education.
Get answers to your questions
Our team is standing by to assist you with additional program details, financial aid options, and admissions questions.
Concordia University will not share your personal information. By submitting this form you agree to be contacted about Concordia's Education Offerings.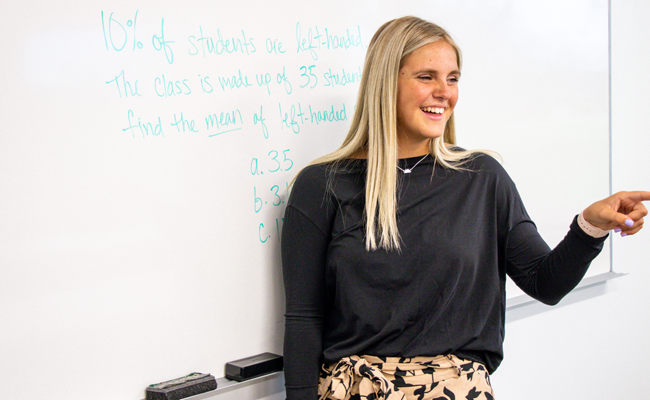 Interested in a shift in your career? Concordia's teacher certification program allows you to earn your Teacher Certification in secondary education. Our flexible post-baccalaureate program makes it so you can continue working while completing your coursework, with the flexibility to complete student teaching at a school local to you. Combining your teaching certification with a master's in curriculum instruction (MSCI) can set you apart in the field, with an added bonus of being eligible for financial aid!
Certification options
Candidates can choose to earn a secondary certification in the following grade bands:
5th - 9th grade (Middle)

7th - 12th grade (Upper)
Content areas include the following:
English

Mathematics

Science

Social Studies

Spanish

ESL (K-12 certification)

Music (K-12 certification)

*Special Education Learning Disabilities (K-12 certification)

Physical Education/Health (K-12 certification)
*In order to add a Special Education Learning Disabilities certification, students must take an additional 30 hours of coursework.
Candidates complete a 30-credit education sequence which allows them to teach at the secondary level while earning a Master's of Science in Curriculum and Instruction. Courses are offered entirely online and credit can be given for previously completed education courses at the graduate level. You will be equipped to teach in middle school, junior high, or high school in both the private and public sectors.
You'll also learn how to design and use teaching methods in your content area that will make a meaningful impact in the classroom. Our Teaching Certificate Program takes a faith-based approach, which means you will bring faith and learning together in a meaningful way for your students. You will not only graduate equipped to plan lessons, but you will also learn how to build relationships to manage a classroom, use technology and best practices to engage in effective teaching, and be an educator dedicated to service in the classroom, church, and community.
Recommended for you (based on programs you've viewed)
WHAT OUR CURRENT STUDENTS HAVE TO SAY
Tracy, MSCI with Teacher Certification
"What makes this program unique for me is that the assignments aren't just read this and answer these questions. Then, study the materials and take an exam. In these classes, we are shown tools and then we have to expand our thinking into what those tools look like when applied to a classroom setting. I don't feel like you can "fake it til you make it" in these classes. You cannot simply scan the reading materials. We really need to have an understanding, otherwise, we wouldn't be able to complete the assignments. Also, by having to put our knowledge into play, the lessons stick with me, whereas, cramming for an exam, does not."
Students must have a certified Bachelor's degree.
Application:
Apply online: www.cuaa.edu/apply
Provide an official transcript documenting a certified Bachelor's degree.
Provide 2 letters of recommendation.
Submit a personal letter of intent.
Once enrolled in the program, students must have the following to graduate:
An official score report documenting passing scores on the Michigan Test for Teacher Certification (MTTC) for your chosen content area (

passing scores must be submitted before the student teaching semester

).
Acceptance into the School of Education
Maintained a 2.75 GPA
Successfully completed student teaching
Anthony D. Berthiaume
Ph.D.
Adjunct Professor
Phone: (517) 285-7823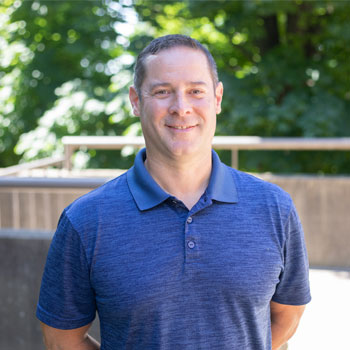 ---
Education
Ph D - K-12 Educational Administration, Michigan State University (2015)
Sara Clemm von Hohenberg
Ph.D.
Coordinator - Teacher Certification Program for CUAA, Associate Professor
Office: Krieger K125
Phone: (734) 995-7326

Bio
Dr. Sara Clemm von Hohenberg serves as the Coordinator of the Masters of Science in Curriculum and Instruction with Teacher Certification Program. She teaches Teaching and Learning, Human Growth and Development, Differentiated Instruction, Cultural Geography as well as online courses in the Masters program.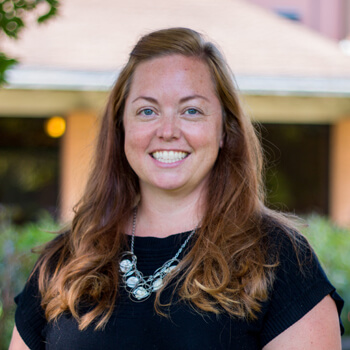 ---
Education
Ph D - Instructional Leadership, Northcentral University (2018)
MA - Educational Leadership, Oakland University (2005)
BA - Secondary Education, Western Michigan University (2002)
---
Research Interests
Teacher Preparation Candidate Dispositions
Professional Semester Experiences
---
Teaching Interests
Differentiated Instruction
Teaching and Learning
Secondary Education Coordinator, Adjunct Professor
Office: Krieger 124
Phone: (734) 995-7458

Bio
I was a high school math teacher for eight years, before moving to Michigan. I spent a few years as a stay at home mom, during that time I tutored individuals in math, SAT and ACT prep, and in study skills. In 2019, I joined the School of Education at Concordia University and I have been teaching courses in both the undergraduate and graduate programs since 2020.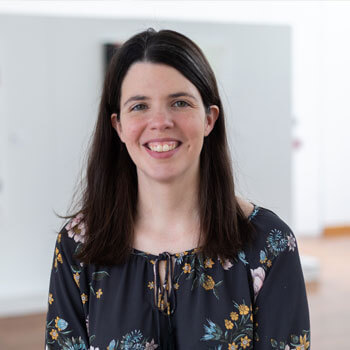 ---
Education
MA - Education, Lindenwood University (2010)
Program Manager, Master of Science in Curriculum and Instruction, Adjunct Professor

Bio
Our household currently consists of myself, my husband, my daughter, and our two cats (Autumn and Solo)! When I am not teaching, I LOVE to be outside - running, biking, gardening, and just hanging out with my family. I have been working with students pursuing a degree in education since 2016, and it is what God placed me on earth to do!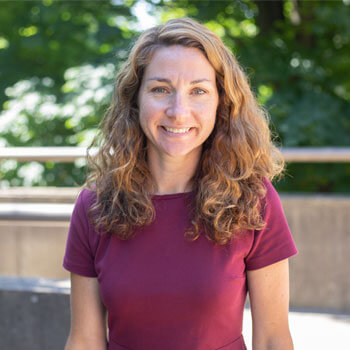 ---
Education
EdS - Educational Leadership, Oakland University (2019)
MA - Reading and Language Arts - K-12, Oakland University (2011)
Adjunct Professor
Phone: (989) 324-0666

Bio
I have been serving at Concordia as an adjunct instructor since 2014 in the area of Graduate Education. I also have been serving as Academic Dean at Valley Lutheran High School in Saginaw, MI since 2001 where I also taught math and music for 15 years prior to joining the administration. I live in Saginaw Township with my husband, Dwight, and have 3 step-children (two are military and one works locally) and three wonderful grandchildren.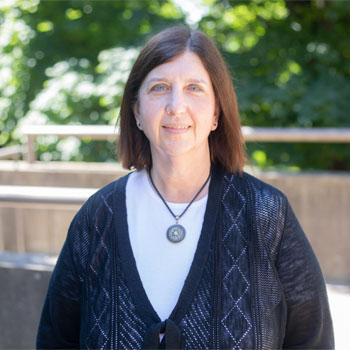 ---
Education
EDD - Educational Leadership - Curriculum & Instruction, Central Michigan University (2008)
MA - Master of Arts in Teaching - Curriculum & Instruction, Saginaw Valley State University (1998)
---
Contributions
Meyers, L. (2016). "Technology: The driver for twenty-first century skills." In Sparapani and Ross-McClain editors (Ed.), Teaching in a Globally-Connected World. Lanham, MD: Hamilton Books.
Meyers, L. (2005). "Time for a tune-up: Comprehensive curriculum evaluation." Principal Leadership. (6(1) ed.,pp. 27-30).
Meyers, L. (1997). "Teaching all four R's." Michigan Middle School Journal. (21(2) ed.,pp. 17-19).
---
Research Interests
Instructional Strategies
Professional Learning Communities
Administration Styles and Strategies
---
Teaching Interests
Graduation Education - Curriculum & Instruction
Graduate Education - Educational Administration
Teacher Education - Elementary and Secondary
Professor, Adjunct Professor

Bio
Thank you for being a part of an outstanding University experience. I have been blessed to be in education for nearly two decades as a teacher and now an administrator. I look forward to working with you all and sharing my knowledge as you move throughout your career.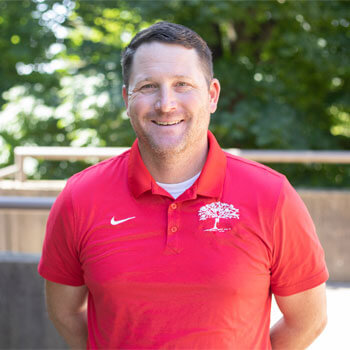 ---
Education
EdS - Educational Leadership, Eastern Michigan University (2021)
MA - K-12 Leadership, Michigan State University (2012)
---
Teaching Interests
Educational Leadership
Curriculum Design
Data Driven Decision Making
Questions? We're here to help