Lutheran higher ed on the banks of a National Water Trail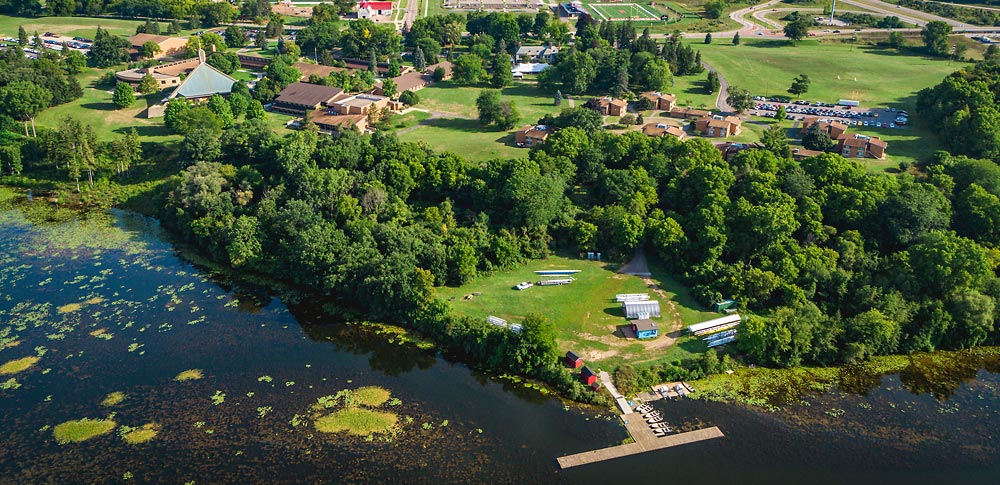 Run the Gallup Park Pathway, go kayaking or canoeing, watch the sun set, meet with friends at the dock, or just sit and listen to the water - Concordia's riverfront campus is a beautiful place to experience God's creative majesty.
We acknowledge that the campus acreage we inhabit is a small part of the traditional homelands of the Meskwaki (Fox), Potowatomi (Bodéwadmiké) and Anishinabek First Nations along the banks of the Huron River and what became southeastern Michigan.
Ann Arbor and Huron River facts
The Huron River is 104 miles of a National Water Trail navigable by canoe and kayak terminating in Lake Eerie
In 1837 the University of Michigan moved from Detroit to Ann Arbor (40 miles), transforming this rural stretch of the Huron into one of Michigan's largest cities
The Huron was one of the historic trade routes of the Iroquoian-speaking people of the region. Their word for this river was Giwitatigweiasibi ("burnt-oak region")
Edison and Ford began acquiring and developing dams along the Huron River to create electricity for their Detroit factories in the early 1900s
The Huron River is home to a huge range of fish and is loved by anglers for its variety of rock bass, sunfish, bluegill, black crappie, white bass, smallmouth bass, largemouth bass, northern pike, walleye, catfish, trout, muskie, Coho salmon, Chinook salmon, and Steelhead
Ann Arbor hosts The Argo Cascades, a series of manmade drops, rapids and pools. Boats and tubes are available for rent to enjoy this river adventure!