Discounted high school dual credit courses
Taking dual credit courses in high school is a great way to save time and money, but the experience should offer you more than a fantastic value and a great opportunity to jumpstart your college pathway. After all, this is your education and your future.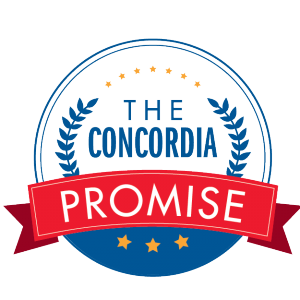 Under the Concordia Promise, high school students, either home schooled or at Christian schools, can enroll in online dual credit courses for a reduced tuition cost of $50 per credit hour. Learn about dual credit courses for all other students on the Admissions site.
After completion of dual credit courses, Concordia Promise students are eligible to participate in the Concordia Promise Plus. The Concordia Promise Plus is a scholarship in the amount paid for the dual credit courses that is applied toward their undergraduate tuition if the students choose to attend Concordia University Wisconsin or Ann Arbor. Essentially, students receive their first year of college completely for free.
You'll earn both high school and college credit by taking one or more collegiate-level courses. And with our flexible online classes taught by Concordia University faculty, you can complete coursework during the school day or at home, whatever fits you best.