Understanding human behavior from a Christian perspective
Do you have an inquisitive mind that seeks to understand why people behave the way they do? Do you want to make a difference in the lives of people who are struggling with stressful situations or mental disorders? With a Christian worldview, Concordia's online psychology degree equips you with an understanding and appreciation for the complexity of the human mind that can be applied in service to those who need it most.
Questions? We're here to help
Our team is available to help you as you consider the next step in your education.
Get answers to your questions
Our team is standing by to assist you with additional program details, financial aid options, and admissions questions.
Concordia University will not share your personal information. By submitting this form you agree to be contacted about Concordia's Education Offerings.
Coming July 2022
Concordia's online psychology degree is designed for the working adult who wants to begin a career in psychology. The flexible online format allows you to fit the program into your schedule so you can work toward your career goals without putting the rest of your life on hold. Start dates are available every eight weeks so you can start anytime.
The aim of the program is to help you gain a deeper understanding of the mind and the biological, psychological, and environmental factors that impact it. By expanding your comprehension of human behavior, you'll be equipped to help change the lives of others for the better.
Taught from a Christian perspective, the applied psychology curriculum explores various factors that influence the human mind to help you gain a deeper understanding of why people behave the way they do under different circumstances. These factors include:
Biological, psychological, and environmental influences
Developmental stages throughout the lifespan
Interpersonal communication and social psychology
Theories of personality
You'll study the complexities of behavioral disorders and criminal psychology, as well as varying approaches to treating abnormal behaviors and disorders. Finally, our experienced faculty will teach you how to conduct psychological research- from methods of study design and ethics in research to best practices for data collection and analysis. Case studies give you
Upon graduation, you'll have the foundation of knowledge needed for continued studies in graduate school, or to pursue work in a helping profession.
Concordia's online psychology degree is offered through our sister campus in Mequon, WI, and is accredited by the Higher Learning Commission, a regional accreditation agency recognized by the U.S. Department of Education.
Recommended for you (based on programs you've viewed)
You may apply at any time as Concordia operates on a rolling admission basis with new courses beginning every 8 weeks. Applications will be reviewed until about two weeks before the start of the next eight-week class session.
Steps for program admission:
Submit your accelerated online application.
We help guide you through: You will receive communication from your helpful Admission Counselor about next steps, entrance requirements, and how to submit application materials.
Review entrance requirements and submit admissions pieces:

Cumulative undergrad GPA of 2.00 for previous college credits from regionally accredited institutions for full acceptance. *If GPA is lower than 2.00, students may be accepted conditionally based upon additional requirements.
Official transcripts from all post-secondary institutions must be sent to CUAA Admission, 4090 Geddes Rd. Ann Arbor, MI 48105. If less than 60 college credits, an official high school transcript or proof of GED is required. *Standardized test results are not required.

Acceptance! When your application file is complete, it will be reviewed by the admission committee and you will be notified of entrance status.
Schedule Advising Appointment: Once admitted, you may schedule to meet with your Academic & Career Advisor who will review your degree plan, discuss orientation steps, the CUAA student portal, and assist with registering for classes.
Fill out application for Uncommon Scholarship if you qualify.
Holly Griskell
Holly Griskell, Ph.D.
Office: Luther Hall 205-J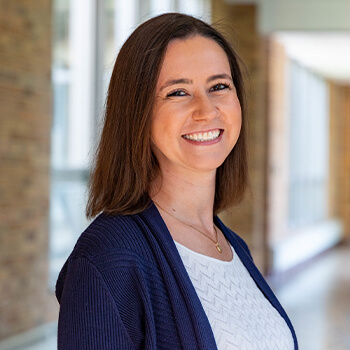 ---
Education
Ph D - Developmental Psychology, Loyola University Chicago (2021)
MA - Developmental Psychology, Loyola University Chicago (2018)
BS - Psychology & Spanish, Valparaiso University (2015)
---
Contributions
Griskell, H. & Gámez, P. Early-adolescent Dual Language Learners' reading comprehension: Influences of teacher questions and language-efficacy. Developmental Psychology.
Griskell, H., Gámez, P. & Lesaux, N., (2020). Assessing middle school Dual Language Learners' and English-only students' motivation to participate in discussion. Learning and Individual Differences.
Griskell, H., Gámez, P. & Lesaux, N., (2020). Bi-literacy and motivation as predictors of bilingual students' talk during classroom discussion. International Journal of Bilingual Education and Bilingualism.
Gámez, P., Griskell, H., Sobrevilla, Y. & Vazquez, M., (2019). Dual Language and English-only learners' expressive and receptive language skills and exposure to peers' language. Child Development.
---
Presentations
Griskell, H., Gámez, P. & Diaz de Leon, R., (2022). Dual language learners' motivation profiles and their engagement in classroom discussion. Oral Presentation. Society for Research in Child Development 2021 Meeting.
Gámez, P., Galindo, M., Perry, J., Griskell, H. & Martinez, C., (2022). Variation in caregiver responsivity and its relation to Latino DLLs' language skills. Poster. Society for Research in Child Development 2021 Meeting.
Gámez, P., Lesaux, N. & Griskell, H., (2021). The role of language input and production in academic language and literacy development of dual language learners. Paper. American Educational Research Association 2020 Annual Meeting.
Griskell, H., Tran, H., Gámez, P., Dominguez, H., Diaz de Leon, R., Minkevitch, J., Cervantes-Jimenez, N., Calderon, N. & (2020). Classroom-based discussion in middle school and bilingual students' literacy development. Poster. Society for Research in Child Development 2019 Meeting. Baltimore, MD.
Griskell, H. & Gámez, P. (2019). English Language Learners' participation in classroom discussion as a function of motivation and bi-literacy. Oral Presentation. 2018 UIC Bilingualism Forum.
---
Research Interests
Language development
Bilingualism
---
Teaching Interests
Child Development
Lifespan Development
Questions? We're here to help