The Outstanding Alumnus Award honors graduates of Concordia for reflecting in their lives and careers the values upon which the university was founded. To nominate an outstanding alumnus, contact the CUAA Alumni Office at alumni@cuaa.edu. The committee will consider your nomination in next year's process.
Would you like to participate in the Outstanding Alumnus Award Committee? Contact us at alumni@cuaa.edu.
2020 CUAA Outstanding Alumnus Award Recipient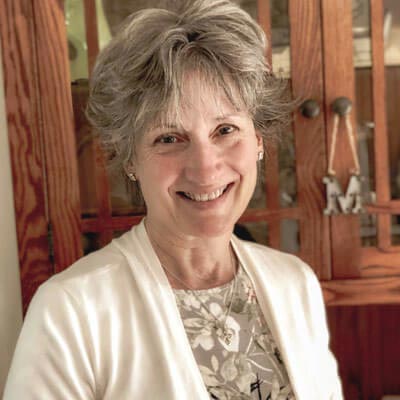 Patricia Kemmerling Maier
Brighton, MI
Pat Maier is a 1977 graduate of Concordia Junior College, Ann Arbor. A pastor's wife and former Lutheran educator, Pat met her husband David on this campus. She has been blessed to serve the Lord in the many ministries of their churches and schools in Michigan and Illinois. Most recently, as wife of the Michigan District President, she values the opportunity to connect with ministry wives and to help plan a yearly retreat (even if it's virtual) for their encouragement. She has been active in planning and presenting at other retreats, conferences and women's events, including the Camp Arcadia Women's Retreats, Women's Leadership Institute, and the Best Practices for Ministry conferences.

Pat enjoys writing, drawing and speaking to inspire others in their walk with Jesus. As co-founder of Visual Faith Ministry, she believes in the importance of applying educational research to faith learning by creating resources as well as teaching and writing about visual faith practices that equip and encourage all ages during focused time in prayer and God's Word. She is a collaborator and artist for The Visual Church Year, a collection of worship resources which follow the Lutheran Church Missouri Synod (LCMS) Lectionary readings. A published artist, Pat completed a series of margin art for The Enduring Word Bible by Concordia Publishing House, as well as several recent hymn journals by Next Step Press. She believes that the creative use of language and art - when connected with God's Word - can touch the heart, promote understanding, and spark joy.

Pat and her husband enjoy spending time with their four grown children and their families (which include five grandchildren) here in Michigan and while vacationing in Montana. Her ongoing focus is to spend time each day in God's Word, connect with the people God places in her life each day, and to find peace in the realization and reality of His amazing grace in all circumstances.
Past Outstanding Alumni
1985 Timothy E. Winter, '73
1986 Rev. Dr. Gilbert C. Meilaender, Jr., '66
1987 (Not Awarded)
1988 Rev. Michael S. Ruhl, '65
1989 Karen Kayser Kersten, '75
1990 Rev. Dr. Walter Warneck, '65
1991 Rev. Dr. Kittrell O. Moore, '66
1992 Rev. Dr. Kenneth Haugk, '65
1993 Rev. Dr. Dean W. Nadasdy, '67
1993 Julie Nielsen-Schmidt, '79
1994 Dr. Leslie J. Fyans Jr., '72
1995 Rev. Mark Patrick Braden, '88 (December Commencement)
1995 Dr. Peter Silzer, '70
1996 Catherine F. Lick, '68 (December Commencement)
1996 James Geyer, '73
1997 Rev. Jonathan B. Trinklein, '75
1998 Gary Quick, '65 (December Commencement)
1998 Ruth Koch, '65
1999 Dr. Martin Jean, '82
2000 Dr. Shirley Miske, '73
2001 Dr. Richard Luker, '81
2002 (Not Awarded)
2003 (Not Awarded)
2004 Dr. Elizabeth Birr-Moje, '83
2005 Chaplain, Capt. Matthew A. Boarts, '90
2006 Dr. Mark Looker, '71
2007 Dr. Manfred B. Boos, '68
2008 Rev. Wray A. Offermann, '67
2009 Donald Wharton, '72
2010 Rev. Dr. David P. E. Maier, '78
2011 Rev. Mark Brandt, '74
2012 Rev. Gregory Seltz, '82
2013 Rev. Dr. Paul R. Naumann, '80
2014 Mr. & Mrs. Andrew and Heidi Woell, '86
2015 Mrs. Judith Fischer Wollack, '74
2016 Travis Grulke, '01
2017 Steven Meseke, '72
2018 Michael W. Kramer, '74
2019 Rev. David A Davis, '79