The Outstanding Alumnus Award honors graduates of Concordia for reflecting in their lives and careers the values upon which the university was founded. To nominate an outstanding alumnus, contact the CUAA Alumni Office at alumni@cuaa.edu. The committee will consider your nomination in next year's process.
Would you like to participate in the Outstanding Alumnus Award Committee? Contact us at alumni@cuaa.edu.
2021 CUAA Outstanding Alumnus Award recipient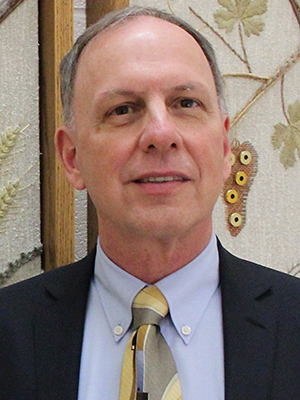 Rev. Dr. John Denninger
Springfield, VA
Reverend John Denninger graduated from Concordia University Ann Arbor in 1974.  When not flipping through Greek flash cards, he was active in the intramural program, sang in Doc Foelber's Choir, and served as one of four guitarists who led worship at all-campus devotionals.  He went on Ambassadors for Christ weekend trips to Michigan District churches, during which he served by playing guitar.  He went on to Concordia Senior College, Fort Wayne, and earned his Master of Divinity degree at Concordia Seminary, St. Louis.  
If a marriage proposal to Constance was Rev. Denninger's best life-time decision, the second most important decision was made during the summer between his freshman and sophomore year.   He asked his grade school friend, Constance (née Graft, CUAA class of 1975) to go on a road trip from Fort Wayne to Ann Arbor.  After their years at CUAA, they were married.
Rev. Deinninger's first ministry calls took the couple to Nebraska, where he served a parish and later became a full-time campus pastor. Their three daughters, Jessica, Laura, and Sara, were born Cornhuskers.  Rev. Denninger accepted a call to Prince of Peace Lutheran Church in Springfield, Virginia, in the suburbs of Washington DC, where he served as pastor for 24 years.  In 2012, he was elected to serve as the Southeastern District (SED) President.  His term of office will be completed in May of 2022.
Rev Denninger's experience with Concordia's Ambassadors for Christ was the seedbed for his missiological focus. He earned a Doctor of Missiology degree from Fuller Seminary, Pasadena, California.  He developed iNeighborhood: simple tools for the baptized to engage their neighbors with the Gospel. These tools are used to reach the 10% of the US population that live within the SED boundaries and are not familiar with Jesus.
Though the Denningers live far from CUAA, they may actually walk the CUAA campus more than many Michiganders. That is because Joshua Schumacher, Concordia Cardinal's head football coach, is married to their daughter Laura. And former CUAA athletic trainer, Daniel Meier, is married to their daughter Jessica.  Six (soon to be seven) of the Denninger's grandchildren live in Ann Arbor.  The other three live in Virginia.
Past Outstanding Alumni
1985 Timothy E. Winter, '73
1986 Rev. Dr. Gilbert C. Meilaender, Jr., '66
1987 (Not Awarded)
1988 Rev. Michael S. Ruhl, '65
1989 Karen Kayser Kersten, '75
1990 Rev. Dr. Walter Warneck, '65
1991 Rev. Dr. Kittrell O. Moore, '66
1992 Rev. Dr. Kenneth Haugk, '65
1993 Rev. Dr. Dean W. Nadasdy, '67
1993 Julie Nielsen-Schmidt, '79
1994 Dr. Leslie J. Fyans Jr., '72
1995 Rev. Mark Patrick Braden, '88 (December Commencement)
1995 Dr. Peter Silzer, '70
1996 Catherine F. Lick, '68 (December Commencement)
1996 James Geyer, '73
1997 Rev. Jonathan B. Trinklein, '75
1998 Gary Quick, '65 (December Commencement)
1998 Ruth Koch, '65
1999 Dr. Martin Jean, '82
2000 Dr. Shirley Miske, '73
2001 Dr. Richard Luker, '81
2002 (Not Awarded)
2003 (Not Awarded)
2004 Dr. Elizabeth Birr-Moje, '83
2005 Chaplain, Capt. Matthew A. Boarts, '90
2006 Dr. Mark Looker, '71
2007 Dr. Manfred B. Boos, '68
2008 Rev. Wray A. Offermann, '67
2009 Donald Wharton, '72
2010 Rev. Dr. David P. E. Maier, '78
2011 Rev. Mark Brandt, '74
2012 Rev. Gregory Seltz, '82
2013 Rev. Dr. Paul R. Naumann, '80
2014 Mr. & Mrs. Andrew and Heidi Woell, '86
2015 Mrs. Judith Fischer Wollack, '74
2016 Travis Grulke, '01
2017 Steven Meseke, '72
2018 Michael W. Kramer, '74
2019 Rev. David A Davis, '79
2020 Patricia Kemmerling Maier, '77