The Outstanding Alumnus Award honors graduates of Concordia for reflecting in their lives and careers the values upon which the university was founded. To nominate an outstanding alumnus, contact the CUAA Alumni Office at alumni@cuaa.edu.  The committee will consider your nomination in next year's process.
Would you like to participate in the Outstanding Alumnus Award Committee? Contact us at alumni@cuaa.edu.
2019 CUAA Outstanding Alumnus Award Recipient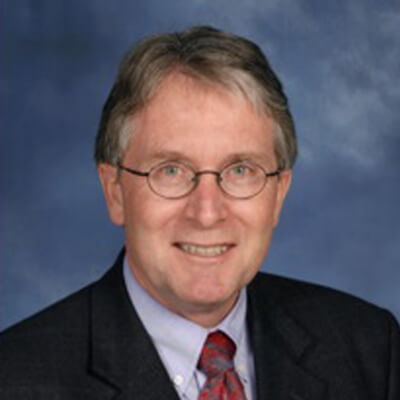 Rev. David A. Davis graduated in Concordia's second ever four-year class in in 1979. He earned majors in both Greek and the Humanites and a minor in Earth Science. While at Concordia "D. Davis" served as president of the Student Senate and, much to everyone's surprise, was awarded an athletic letter for soccer. It was through their time together at Concordia that D. Davis convinced Sallie (nee Mertz, A.A. '79) to spend her life with him. Most of his lifelong friendships were begun at Concordia. After graduation he matriculated to Concordia Seminary, St. Louis.

Because his roots in Michigan go back to Davis ancestors settling in the Saginaw Valley area nearly a decade before the Franconians arrived, Pastor Davis was glad to spend his entire pastoral ministry proclaiming Jesus to people throughout Michigan. He served congregations in Spring Lake, Trenton, Grand Rapids and currently serves in Haslett/Lansing. He was instrumental in beginning various new congregations and ministries. He served the Michigan District as Chair of the Mission Board and later the Board of Directors. He was also a Regional Vice President for four terms. Pastor Davis' special interests in ministry, both within the congregations and through his service to the District, were accenting reading through the Bible annually, developing new Gospel-proclaiming ministries and promoting congregational life in center city locations.

Dave has an interest in interesting things and interesting people. He has built various reading groups inside and outside of the congregation. He has always loved to learn about what people do and how they think about things. For the purpose of mentoring young people and new pastors, he authored series of essays. For over a decade, Dave and Sallie have hosted an annual gathering of pastors for a "Homemade Pastors Conference."

D. Davis and his family are lifelong supporters of Concordia. They return regularly for special events. For many years he brought his confirmation class for an introductory tour of the campus. He and his extended family established a scholarship for education students in memory of his parents Robert and Anne Davis.

Dave and Sallie raised four daughters. Together the family enjoys living, serving and vacationing throughout the State of Michigan. He has an interest and some ability in playing the tuba. He has an interest in playing golf.
Past Outstanding Alumni
1985 Timothy E. Winter, '73
1986 Rev. Dr. Gilbert C. Meilaender, Jr., '66
1987 (Not Awarded)
1988 Rev. Michael S. Ruhl, '65
1989 Karen Kayser Kersten, '75
1990 Rev. Dr. Walter Warneck, '65
1991 Rev. Dr. Kittrell O. Moore, '66
1992 Rev. Dr. Kenneth Haugk, '65
1993 Rev. Dr. Dean W. Nadasdy, '67
1993 Julie Nielsen-Schmidt, '79
1994 Dr. Leslie J. Fyans Jr., '72
1995 Rev. Mark Patrick Braden, '88 (December Commencement)
1995 Dr. Peter Silzer, '70
1996 Catherine F. Lick, '68 (December Commencement)
1996 James Geyer, '73
1997 Rev. Jonathan B. Trinklein, '75
1998 Gary Quick, '65 (December Commencement)
1998 Ruth Koch, '65
1999 Dr. Martin Jean, '82
2000 Dr. Shirley Miske, '73
2001 Dr. Richard Luker, '81
2002 (Not Awarded)
2003 (Not Awarded)
2004 Dr. Elizabeth Birr-Moje, '83
2005 Chaplain, Capt. Matthew A. Boarts, '90
2006 Dr. Mark Looker, '71
2007 Dr. Manfred B. Boos, '68
2008 Rev. Wray A. Offermann, '67
2009 Donald Wharton, '72
2010 Rev. Dr. David P. E. Maier, '78
2011 Rev. Mark Brandt, '74
2012 Rev. Gregory Seltz, '82
2013 Rev. Dr. Paul R. Naumann, '80
2014 Mr. & Mrs. Andrew and Heidi Woell, '86
2015 Mrs. Judith Fischer Wollack, '74
2016 Travis Grulke, '01
2017 Steven Meseke, '72
2018 Michael W. Kramer, '74