School of Health Professions
Bachelor of Science in Diagnostic Medical Sonography - Completion
If you are a licensed Sonographer this completion degree was designed to help you finish your undergraduate degree to grow in your profession.
Expand your vocation
Are you working as a Sonographer and want to earn your bachelor's degree to advance your career? Concordia's Diagnostic Medical Sonography completion program was created for individuals like you! This opportunity allows registered sonographers to transfer their previous knowledge and credits into Concordia's completion program; so you can earn your degree faster.
Scholarships
$1000s in new scholarships available for this program.
View Scholarships
You will complete the Concordia core curriculum and electives, in addition to the credits transferred, to complete your bachelor's degree in Diagnostic Medical Sonography. We encourage you to select a minor that will help you fulfill the total number of credits (120) needed for graduation. You can transfer up to 84 credits and a minimum of 63 credits. This degree can be completed in a year and a half or less! From the very start, we will match you with an academic advisor to determine how many credits you are able to transfer, and get you started on your journey to growing in your career.

We understand that you are a busy working professional. That is why this program provides flexible learning options. Each course lasts 6 or 8 weeks (depending on the given format). You'll benefit from coursework that is founded on a Christ-centered education.
Hear from our faculty:
Learn to communicate effectively and work collaboratively with others in your field. Through this program you will demonstrate the ability to think rationally and critically, to analyze and to research a problem, and to propose potential solutions. You'll also come out with a better understanding of the ethical responsibilities of health care from a Christian perspective.
Adult accelerated admissions steps
You may apply at any point in the year. No need to wait!
Official transcripts from all post-secondary institutions attended must be sent directly to your Admission Counselor. If you have less than 60 transferable credits, an official high school transcript or proof of GED must also be submitted
You will receive an email and phone call from your helpful Admission Counselor about next steps. When your application file is complete, it will be reviewed by the Admissions Committee. With most programs students will be required to have a cumulative GPA of 2.0 or above from regionally accredited institutions of higher learning.
**Exceptions to the above admission criteria may be granted through the conditional admission process. For additional information, please contact your Admissions Counselor.
Lisa Reimer
M.S., RDMS, RVT, R.T(R)
Department Chair - Imaging Department - CUWAA, Clinical Assistant Professor
Office: Heidelberg Hall 203
Phone: (262) 243-2172

Bio
Lisa Reimer is a registered Diagnostic Medical Sonographer specializing in abdomen, obstetrics & gynecology and vascular imaging. She is also a Registered Radiologic Technologist. She holds a Bachelor of Science Degree in Radiologic Technology and a Master of Science degree in Health Administration.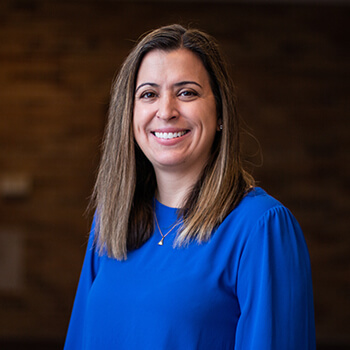 ---
Education
MS - Healthcare Administration, University of St. Francis (2017)
BS - Radiologic Science, Marian University (2013)
Diagnostic Medical Sonography, Aurora St Luke's Medical Center - School of Diagnostic Medical Sonography (1998)
Radiologic Technology, Theda Clark Medical Center - School of Radiologic Technology (1994)
---
Teaching Interests
Cross Sectional Anatomy, Human Anatomy & Physiology
Embryology & Fetal Development