Box office hours
The Concordia Box Office is located in the Kreft Center.
Monday - Thursday | 1:00pm - 5:00pm
Friday | 1:00pm - 5:00pm
Also open one hour before performances
Easy ways to order
Call during our office hours (above) to order tickets by phone or click on "Buy Tickets Online" to order online.
Upcoming ticketed performances
Neal Simon's Fools: A Comic Fable. October 11-October 14. $10 ($7 students and seniors).
Concordia Marching Band Year-in-Review. November 15. $10 ($5 students and seniors).
A Manor Christmas. November 30-December 2. $5 (Children and Students free).
41st Annual Boars Head Festival. November 30 - December 2. $16, $12, $10.
Seating charts
For events in the Chapel of the Holy Trinity, please refer to the Chapel Seating Chart below.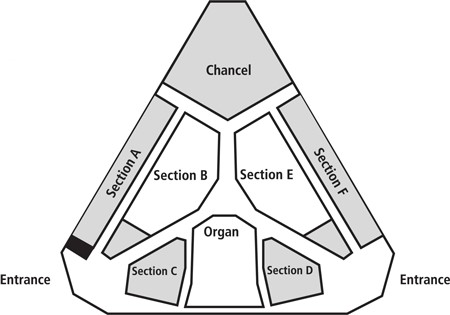 Address
Concordia University
Box Office: Bookstore
4090 Geddes Rd
Ann Arbor, MI 48105
Refunds & exchange policy
Due to the nature of the performing arts, programs are subject to change. Refunds are only given in the case of event cancellation or date change. Tickets may be exchanged at the box office for a different performance (subject to availability) up to one hour prior to the performance.
Ticket donations
If you are unable to use your tickets, please consider making a donation by returning your tickets up to one hour prior to the performance. We will send you an acknowledgement treating the value of your released tickets as a tax-deductible contribution.
Special services
All venues are wheelchair accessible. For accommodation, please request wheelchair seating when you purchase your tickets.